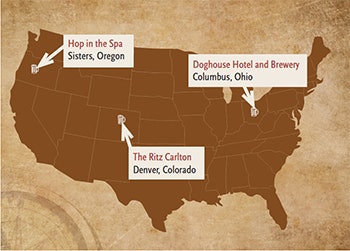 People soak in a pool or spa to relax. People also like to have a drink or two for the same reason. So it's natural, then, that these two worlds would collide with the advent of the beer spa, spaces that offer the "hop-portunity" to both have a brew and bathe in it for utmost relaxation.
The concept is so popular, in fact, that beer spas can be found all over the planet. Looking to get a few stamps in your passport? To help, we put together a map of just some of the world's beer spas.* It should be noted that at every location, you can drink a cold pint while you relax.
*Prague seems to be a hub of beer spas with at least six different places offering the same experience. We listed the biggest (and most English-language friendly).
RELATED: Pools Filled With Beer: They Exist
Europe:
Original Beer Spa
Prague, Czech Republic
Two locations, Beer Spa and Spa Beer Land, offer the same experience of soaking in a mixture of malt and hops then laying in a bed of straw.
Starkenberger Brewery
Terranz, Austria
Located in a 700 year-old castle, the obsolete fermentation cellar features seven 13-foot pools filled with up to 42,000 pints of warm beer.
The Moorhof Landhotel
Franking, Austria
Though not devoted to beer specifically, this high-end hotel offers a beer soak for a spa treatment.
Thermal Beer Spa
Budapest, Hungary
This location features a beer tap within arms' reach of the tub. Unfortunately, they only have six two-person tubs that can fit a maximum of 12 guests.
North America:
Hop in the Spa
Sisters, Oregon
America's first and (currently) only official beer spa lets you soak in different kinds of beer in cedar tubs.
The Ritz Carlton
Denver, Colorado
This high-end hotel in the center of microbrew country offers a 75-minute Microbrew Ex"Beer"ience.
Doghouse Hotel and Brewery
Columbus, Ohio
The world's first beer hotel will have an IPA hot tub, minibars in the shower and beer on tap in each room. Currently in development, the Doghouse is expected to open in 2018.