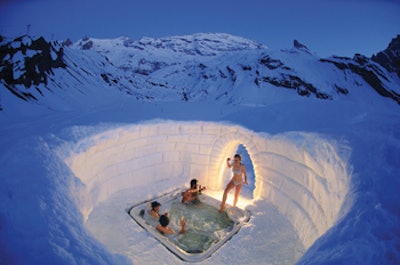 Photos Courtesy www.iglu-dorf.com
Who doesn't enjoy looking up at a starry night sky while steaming in a bubbling hot tub? Now just imagine that view and relaxation from the top of a Swiss mountain! For about $135 a night, you don't have to imagine.
Avid snowboarder Adrian Günter founded the Iglu-Dorf Igloo Villages in 1995. Wanting to be the first one to board on the fresh powder, as well as snap a couple of shots of the mountaintop sunrise, he built himself a mountaintop igloo, and slept in it so that he wouldn't have to race to the summit.
His idea began to grow and by the end of the ski season, a business had bloomed. The first igloo village was built the following winter and was rented out to a total of 15 guests. These days, with over seven villages, the Iglu-Dorf organization rents to more than 10,000 guests per year.
Günter and his team are constantly trying to find new ways to improve their villages. In the winter of 2004/05, Iglu-Dorf began creating hot tub igloos.
The hot tubs, which come from Hot Spring, are lifted to the top of the mountain by helicopter and lowered into the igloos, built specially for them. The construction of these igloos is basically the same as any other, but the roofs are left open so that soakers can gaze at the night sky.
"Taking a warm bath in a hot tub is definitely a highlight for most of the igloo guests during their igloo night," Géraldine Pucken, media relations contact, says. "When the temperatures are cold outside and you can enjoy 38-degree Celsius [100-degree Fahrenheit] warm water it is just amazing, super relaxing and beautiful."