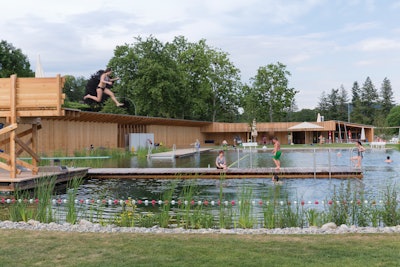 All photos courtesy Herzog & de Meuron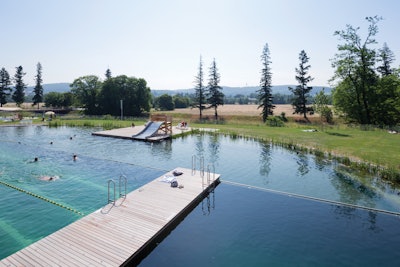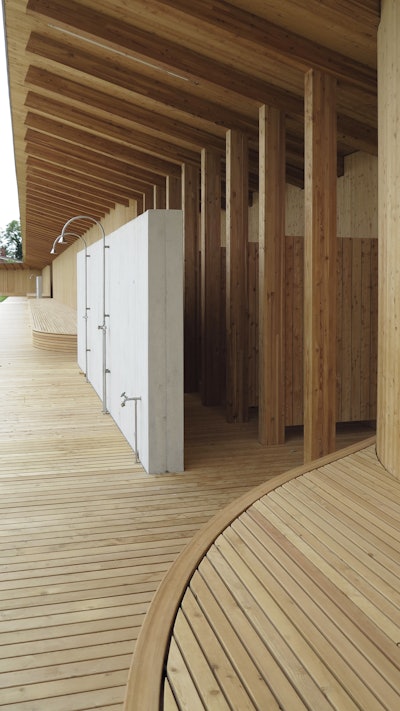 Settled within the wilderness of Riehen, Switzerland, a pond-like swimming pool beckons locals and tourists alike to immerse themselves into the natural habitat the pool radiates.
For years, citizens of Riehen have wanted a new public swimming pool to replace the unusable baths lining the city's riverbanks; however, this was just wishful thinking — that is, until Herzog & de Meuron came along.
In 1979, Herzog & de Meuron won a design competition, giving them both the time and financial means to build a new bathing facility for the community. They decided to abandon the conventional pool concept, and instead, choose a biological filtration system in order to keep the pool closer to a natural, pond-like state. This approach was further discussed and agreed upon by the Riehen locals years later, prompting the architecture firm to finally start building the pool in 2007.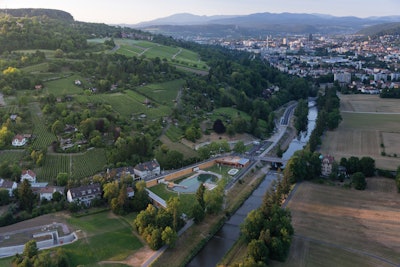 As seen in the pictures, the standard geometric swimming pool transforms into a natural bathing lake. The technical systems and machine rooms typically associated with a pool are replaced with planted filtering cascades.
On two of the sides, the site is screened in by an enclosing timber wall; however, the southern perimeter facing the river is open, bounded only by a green hedge. On the eastern front, a timber fence merges seamlessly with the amenities building, which incorporates the entrance and supporting facilities such as a cafe.
The biological water treatment basins are embedded into the beautiful, sloping landscape on the opposite side of the road. As far as ecological cleaning capacity is concerned, the swimming pool is designed to accommodate around 2,000 bathers per day. The pool is currently open to the public, and is available for year-round use. The ultimate goal of the project was to combine a lively atmosphere with a timeless appearance, something it accomplishes well.
This article first appeared in the August 2023 issue of AQUA Magazine — the top resource for retailers, builders and service pros in the pool and spa industry. Subscriptions to the print magazine are free to all industry professionals. Click here to subscribe.