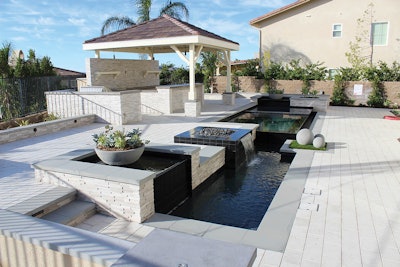 courtesy Scott Cohen
With the drought in California becoming more serious as each summer day passes, swimming pools are coming under close scrutiny. Many California communities are moving to "Level 3" drought restrictions, which include a 50% reduction in outdoor landscape water use. Unfortunately, this has started conversations about limiting or even eliminating all remodel and new pool construction permits.
Pool designers can help promote wise water use through thoughtful design. Here are some tips for reducing water waste through good design practice and proper maintenance.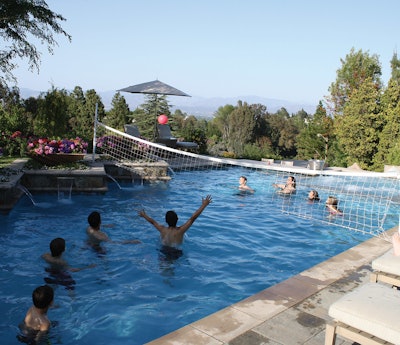 1. Opt for a sport layout. One of the industry's biggest trends is the design and construction of "Sport Layout" pools. These pools are deeper in the middle (at 5 to 6 feet) and shallower on the ends (at 3 to 4 feet), rather than the traditional 3 1/2-foot to 7- to 8-foot deep end.
Although a shallower pool does not change the surface area or evaporation rate of a swimming pool, it does take less water for the initial fill — a major consideration in local communities that are considering stopping all pool permits. In fact, the California Pool and Spa Association points out that during the four months it typically takes to construct a swimming pool, the area is not being irrigated. The water that is saved during that construction time is enough to fill a new pool, net zero.
2. Install a motorized pool cover. The most obvious water saving solution is to design pools with motorized automatic covers. A covered pool reduces evaporation by over 95%, while saving on chemicals and providing an additional level of safety.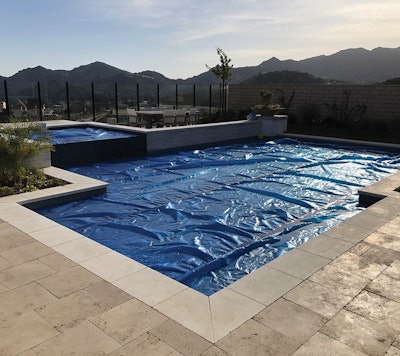 3. Use bubble covers. Providing bubble covers and encouraging clients to use them is becoming a requirement in most communities. Many pool builders in California provide a bubble-type cover to their clients as part of complying with a permit requirement, but they often don't bother to cut it to size or offer clients a convenient manual roller to make it easier to use. In Los Angeles, providing a bubble cover (or a mechanized cover) is a requirement for your permit, but this is not the case universally in California.
I recommend that all pool contractors in California provide a pool cover, and then cut it to size for clients, to make it more convenient to use. If homeowners begin using these covers more frequently, we'll save water, and in turn, we'll save the pool construction industry (yes, it is getting that serious).
4. Switch to cartridge filters. DE filters require frequent backwashing and flushing of hundreds of gallons of water to clean, as much as four times per year. Cartridge filters, on the other hand, don't require backwashing — only a thorough rinsing. The enlarged surface area of a cartridge filter means it needs to be cleaned less often compared with a DE filter, saving even more water.
5. Turn off your auto-fill. Automatic fill units certainly add convenience, but they also obscure any leaking that may be taking place in the plumbing or pool shell. If the auto-fill is running regularly, it is hard for a homeowner to be in touch with how much water they're actually using and whether a leak is present. The pool could have a slow leak, and the auto-fill hides it by automatically filling up the water to compensate. I recommend turning off the auto-fill unit during the drought to force pool owners to be aware of how much water is being added regularly to the pool.
6. Use a timer when filling with a garden hose. We've all had a neighbor that leaves a hose in the pool and forgets about it, overflowing the patios and decks as precious water flows down the street into the gutters. Set a timer on your phone, Alexa or Google home unit to remind you to shut off the hose.
7. Reduce run time on water features and waterfalls. Aeration increases evaporation. Today's phone-app-controlled water features allow multiple on/off times per day. Schedule water features to run only when people are around to enjoy them. Reducing run times can greatly reduce water use by curbing the speed of evaporation.
8. Create less splashy waterfalls. Use baffles in waterfall spillway design to control water splash and water migration outside your water features.

9. Design wind breaks. Use walls, screening and plant hedges to reduce wind blowing over water areas. Reducing wind over the water helps decrease evaporation.
Scott Cohen is an acclaimed garden designer, expert witness, author and licensed contractor in landscape, pool and general construction. His award-winning work has been showcased frequently on HGTV and in numerous books and national magazines. A charismatic and entertaining speaker, Cohen is also the author of eight design and construction books, including the award-winning Outdoor Kitchen Design Workbook, Poolscapes, The Candid Contractor, and Outdoor Fireplaces and Fire Pits. Cohen serves as chairman of the CPSA and is a champion for the swimming pool industry .
This article first appeared in the August 2022 issue of AQUA Magazine — the top resource for retailers, builders and service pros in the pool and spa industry. Subscriptions to the print magazine are free to all industry professionals. Click here to subscribe.