In Scotland, one artist defied pool conventions with a color palette exploding beyond familiar blue hues.
Artist Joana Vasconcelos dreamed up the installation for Jupiter Artland, a sculpture park and gallery outside Edinburgh. She was inspired by the location's spirituality: Two Celtic leylines, said to channel Earth's energy and connect spiritual sites around the world, overlap on the site. One of these aligns with her pool, aptly titled "Gateway."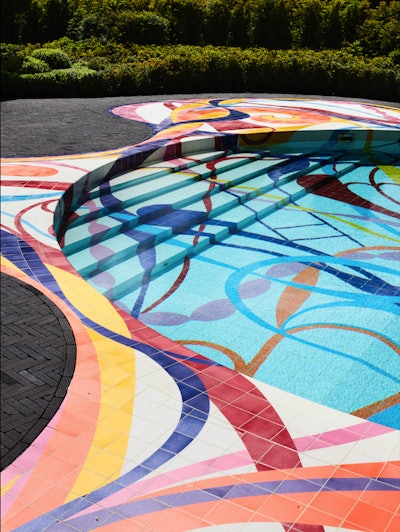 "Gateway is a big splash that invites the public to immerse in a joyful and spirited dimension, leading to a connection with the energy of the Earth," says Vasconcelos. "It's like a threshold to another universe that we're not conscious of, but through which we can flow."
RELATED: The Artist Behind the Pool of Dreams
The pool reflects Vasconcelos' commitment to reviving traditional skills — all 11,366 hand-painted and glazed tiles were meticulously crafted at a ceramic workshop in her native Portugal. Each one-of-a-kind tile, developed with celebrated Portuguese tile producer Viúva Lamego, is unique: There are no duplicates throughout the 30-foot pool.
As artists do, Vasconcelos signed her project — but not in the way you might expect. A symbol representing Scorpio, her zodiac sign, can be seen underwater. A closer look reveals more: The zodiac signs of Nicky and Robert Wilson's family, founders of Jupiter Artland who live in a house on the estate, are included as well.
Those looking to visit Edinburgh Castle, Loch Lomond and the famed highlands may want to make time for a dip into Vasconcelos' multicolored aquatic world.
---
This article first appeared in the May 2021 issue of AQUA Magazine — the top resource for retailers, builders and service pros in the pool and spa industry. Subscriptions to the print magazine are free to all industry professionals. Click here to subscribe.