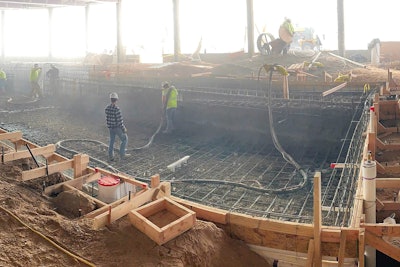 All photos courtesy Robert Cavaliero
It was actually discovered by accident, as researchers looked for new ways of making cheaper energy. But what they came up with was something that could make concrete more dense, and improve its characteristics both in the wet application phase and its performance as a hardened product. Thus was carbon nanotube technology born into the world of concrete.
The first and most obvious place for this new technology was on American highways, and there it has been tested and accepted by government agencies and state DOTs for use in road construction. Carbon nanotubes make concrete harder and less permeable, and especially add endurance to the finish. You may have been driving on them for some time.
About a year ago, carbon nanotubes, in a product called EdenCrete, made the jump to the pool industry as an ingredient in concrete mixes for pool shells.
Interestingly, the builders who have adopted the technology did NOT do so for the same reasons as the road builders — because it improves strength and durability of hardened concrete. At least not primarily. Instead, they made the switch chiefly because it improves the wet properties of concrete — the ability for shotcrete guys to pump it through a hose, to put it up on a wall without overspray or rebound, and control the finish.
That's where this story begins, a little more than a year ago, with the companies that adopted EdenCrete and saw a dramatic change in rheological properties of their wet shotcrete.
"When we first tried it," says Paul Alewine, operations manager at Pete Alewine Pools, Augusta, Ga., "what we were chasing after was ease-of-operation of our pump. We wanted to ease the strain on it. And we saw that right away."
"On our shotcrete trucks, you can cut admixes on and off on the fly. When we cut in EdenCrete admixes, we'll suddenly drop 400 or 500 psi pump pressure. You cut to another mix, and the pressure jumps right back up, and then you cut back to the EdenCrete, and it eases back down again. It reacts that fast."
Concrete pumps are expensive to buy, maintain and fuel, and Alewine believes the drop in pump pressure reduces the cost of all three by extending life, maintenance periods and time between fill-ups.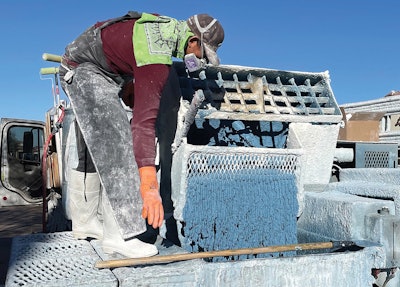 SMALLER MOUNDS OF REBOUND
Mike Clouse, high-end builder and owner of Executive Swimming Pools in Charlotte, N.C., was initially drawn to nanotubes by the impact on his truck pumps, but it was the change in the workability of the mix that came out of the nozzle that he talks about most.
"If you walk up on a typical shotcrete job, you'll see the guys down there shooting in the middle of a thick haze that's rising out of that area of the pool. What's flying up in the air is rebound or overspray or whatever you want to call it. This product minimizes that dramatically," he says.
Basically, he says, the EdenCrete mix just stays where you want it. "It makes the concrete more dense and makes it stick together. It feels more gooey in your fingers, more clingy than normal concrete. You don't get that falling and sagging."
The net effect, he says, is his crews are trimming away less concrete and dealing with less rebound, and thus reducing cost — which includes not only the cost of the material, but the labor cost of removing the trimmings and rebound out of the pool.
"All of that has to be shoveled out of the pool, because you can't use it. And it's heavy."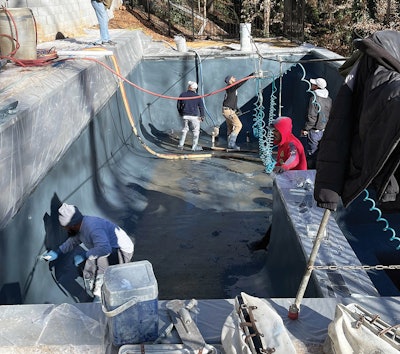 FINISH PROPERTIES
Alewine echoes these viscous descriptions, but adds a note about finishability both on vertical and horizontal surfaces. (Alewine's company has been using EdenCrete on flatwork as well.)
"We used to use [crack reduction] fiberglass strands on our decks, and now we use EdenCrete there instead. Not just to replace the fibers that reduce cracking, but honestly, the product somehow adds a lot of cream without adding water, so from a finishing standpoint on flat work, it simply makes it a lot easier. It looks nice and bleaches out really pretty.
"I didn't even tell our finishers when we first started using it. And they came up afterwards and said, 'Alright, what'd you do this time?' (Because I'm always trying things out on them without telling them.)
"I was like, 'Did you notice anything different today?'
"And they said, 'Yeah, we noticed we had a lot more cream to work with.'"
WATERPROOFING
Working with concrete is a water and cream balancing act. You want to reduce water, but that reduces the cream you need for a nice finish. Alewine says EdenCrete helps by enabling crews to "dial back the water out of the mix, but it still gives us enough cream to put a good skin over the top of it — to add that harder surface on top. That's really what this has given us."
It's that hard surface on top which prevents ingress of water — the chief enemy of hardened concrete and the foundation of good waterproofing. Clouse says it is part of his triple-layered shell protection scheme.
"The worst thing you can have is water migrating through your shell, picking up salts and pushing them through, so we take waterproofing really seriously. The first part of our process is making our concrete less porous with EdenCrete, which makes it tighter, more dense concrete. Next, we put on a layer of Aquron, and then, we put a layer of Basecrete waterproofer over the top of that. We feel like with all three of those, we have a better waterproofed shell."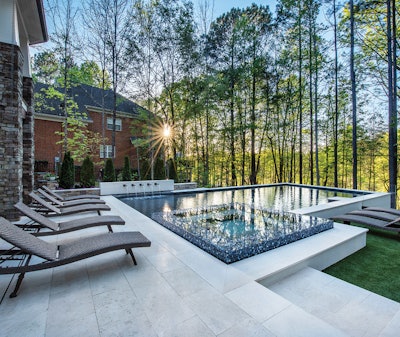 A CAVEAT
On the whole, Clouse is an advocate of the wet and dry properties of EdenCrete, but he does note the cured shell is harder than normal, which makes it more difficult to accommodate any last minute changes.
"The concrete is a little harder, so it's a little tougher to drill through, like if somebody wants to add a light niche or an autofill after the concrete has been placed. But for me, for 15 bucks a yard, it works. I'm gonna say most of our pools use between 60 to 100 yards of concrete, so for an extra $900 to $1,500 — that's my cost — it makes sense.
"I mean our pool package costs x, and we don't really negotiate. This is how we do our pools, and this is the only way we do it, and this is how much it costs. We've currently got backyards under contract in excess of $1.2 and $1.5 million, and we have a pricing structure, which is a set of line items like for waterproofing, Aquron for x number of dollars, Basecrete at x number of dollars, and EdenCrete for x number of dollars, and we work off a margin."
On a final note, Alewine says, in the last few years, customer expectations have grown and companies have had to respond accordingly. "Customers are a little bit tougher to please now than in the past, especially when it comes to the concrete and the finish work side of things. I mean, a pool deck now needs to be . . . I won't say perfect, but it needs to be much prettier than their driveway, let's put it that way. That is a necessity now.
"So we used to use fibers, and they're good for avoiding that shrinkage crack and those hairline cracks, but they do have a little bit of a finishing issue. When you're doing a broom finish, you start to drag those fibers out a bit. This product helps us fight the cracks, but it makes a prettier finish, and that is something customers really look at."