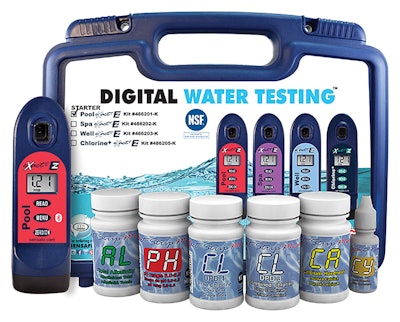 This November, the PSP Expo will take place in Las Vegas, Nev., where pool and spa professionals will be introduced to the newest product innovations from some of the industry's top manufacturers. Take a look at what you can expect to see this year on the show floor.
---
Poolside Tech
Poolside Tech's The Attendant provides a fresh pool automation experience for today's users. Homeowners get a return on investment and the peace of mind that their oasis is being mindfully managed. This product natively integrates with all equipment: Intermix any pump, heater, salt cell and light from existing manufacturers in the industry. This cloud-based, mobile-first automation system monitors all equipment on the pad, making operational decisions to protect a homeowner's investment, lower their environmental impact, improve water quality and send real-time notifications when equipment breaks.
poolside.tech | (267) 810-0600 | Booth Number: 6575
---
Tara Pool & Outdoor Products
Measure any swimming pool quickly and accurately with the Tara A-B Measuring App. Simply continuously enter measurements for A and B, and see the points plot out in the app. Verify that measurements are correct while at the jobsite and prevent wasted time. Once finished, check cross dimensions and place an order directly from the app. Download it for free on the Apple App Store.
tarapools.com | (866) 725-8272
---
HFS Financial
HFS Financial offers smart and fast swimming pool financing, home improvement loans and loans for backyard renovation projects. The loans are 100% direct-to-consumer funded with no stage funding, no contractor paperwork, no pictures to submit and no funding hassles. The company's motto is: "You Dream It, We Finance It," and says their loans hold true to it.
hfsfin.com | (800) 254-9560 | Booth Number: 5934
---
AquaStar Pool Products
Pipeline Filters deliver top-tier hydraulic efficiency along with best-in-class filtration performance. The patented, double-locking system allows consumers to safely open the lid, even under pressure. The filter housing's innovative Pipeline design delivers 360-degree uniform water flow through the entire cartridge filter. The filter is designed with a proprietary element with wider-spaced pleats for improved debris distribution. The core openings are 64% larger to improve flow distribution. All these unique features lead to the filter delivering top-tier hydraulic efficiency. There are two models available: the PLF27000 and the PLF35000.
aquastarpoolproducts.com | (877) 768-2717 | Booth Number: 7155
---
HASA
The HASA Liquid Feeder is a state-of-the-art automated daily sanitizer system that ensures beautiful, clear, sparkling blue pool water year-round. The system is simple to use and install, non-electrical, and a cost-efficient way to deliver liquid chlorine to backyard swimming pools. Because the HASA Liquid Feeder feeds in regular timed intervals only when the filter pump is running and holds up to a two/more week supply of Sani-Clor liquid, it extends the time between service visits, which saves pool pros time and money.
hasa.com | (661) 259-5848 | Booth Number: 4635
---
Lyon Financial
Lyon Financial says it is the industry leader in pool and outdoor living loans, with more than $1 billion in loans funded in 2021. Their low rates and long terms make the dream of a pool an affordable reality for clients, allowing pool professionals to close more deals. Lyon Financial pays customers directly throughout each project, ensuring they are paid on time and in full. Partner with Lyon Financial to make backyard dreams come true!
lyonfinancial.net | (877) 754-5966 | Booth Number: 5340
---
Jack's Magic
The Emerald or Sapphire Stuff from Jack's Magic is a straightforward and time-saving method to help rescue pools. For 10,000 gallons, 8 ounces of the product is strong enough to drop dust, debris and other particles to the bottom of the pool, allowing customers to vacuum the waste and resume swimming after 24 hours.
jacksmagic.com | (800) 348-1656 | Booth Number: 4848
---
Aqua Creek Products
Aqua Creek's Ranger 2 is a pool lift that features a seamless, easy-to-use design, bringing users to their destination in a smooth and quiet out and down motion. Custom colors and solar options are available as well. In addition to this extensive list of color options, the company just announced its new Designer Collection of colors to fit all color wants and needs.
aquacreek.com | (888) 687-3552 | Booth Number: 6269
---
Z Poolform
Z Poolform is a reusable PVC form used to create decorative concrete copings for swimming pools. Interchangeable form liners will allow for a variety of different edge profiles and textures. Z Poolforms can be used with vinyl-liner, fiberglass, or concrete pools and are compatible with many brands of auto covers. Z Poolforms are quick and easy to set up and provide a much more rigid forming solution over styrofoam alternatives, the company says.
concretecountertopsolutions.com | (570) 587-3799 | Booth Number: 8168
---
Natural Chemistry
Pool Perfect Max is Natural Chemistry's premier maintenance formulation. Added weekly, this product reduces the amount of time and effort you have to spend on pool care. Its key benefits include: working as a continuous filter cleaner, removing maintenance levels of problem-causing phosphates, reducing scum line scrubbing and waterline ring-polishing to get pool water to sparkle like never before. Simply add one capful per 10,000 gallons of pool water each week so you can sit back and relax poolside!
naturalchemistry.com | (800) 753-1233 | Booth Number: 6752
---
Chlorine Genie
The Chlorine Genie uses a patented technology that chlorinates pools without adding industrial chemicals. It even adjusts pH with a flip of the valve, reducing the use of muriatic acid. The company says it is easier to install, use, service and clean than inline chlorine generators. Stop dealing with chlorine shortages and paying for fuel to deliver chemicals. Discover why pool professionals are choosing this product over traditional chlorine generators.
chlorinegenie.com | (800) 970-7616 | Booth Number: 4351
---
Raypak
Stop sacrificing durability or efficiency with the help of Raypak's new AVIA HD models that utilize NiTek, the company's exclusive, industry-first technology. NiTek Heat Exchanger Technology is Raypak's latest solution to superior strength and maximum efficiency when it comes to residential pool heating. With 900% more nickel compared to cupronickel in critical surfaces, NiTek creates an ideal surface to protect against scale formation and erosion, without compromising on AVIA's 84% thermal efficiency. Learn more at Raypak.com/nitek.
raypak.com | (805) 278-5300 | Booth Number: 7544
---
RB Retail & Service Solutions
RB Retail & Service Solutions has rolled-out a 'shopping cart' feature that can be added to existing websites — providing a fully equipped, easy check-out and curbside pick up or delivery. It's the perfect way to make pool sales management easier and keep your pool and spa business thriving during this pandemic surge in demand for all things pool, spa and outdoor living.
rbpoolandspa.com | (866) 933-9099 | Booth Number: 7166
---
Water Tech Corp
Water Tech's new Volt Spa Vac Recharge is the perfect cash-n-carry retail must-have. This completely cordless, lithium-battery powered hot tub and spa vacuum cleans tight spa spaces and collects even the smallest dirt and sand. With a run time of up to 40 minutes, this fully rechargeable vacuum quickly removes all debris, leaves, sand and algae. It includes a reusable, all-purpose filter bag and a three-piece sectional pool pole to reach all areas.
watertechcorp.com | (800) 298-8800 | Booth Number: 6734
---
Spazazz
Spazazz's Spa Lab Collection includes seven fragrances of crystals infused with CBD oil to focus on relaxation and calmness. Dissolving the CBD Spa Lab Crystals into hot water and taking some time to soak your body expedites the process of CBD absorption into the skin and bloodstream through a person's pores. Spazazz products have been found to elevate and energize mood, hydrate and exfoliate skin, reduce inflammation, lessen stress and create calmness. On top of all that, these crystals are all natural and will not affect the water chemistry of a hot tub.
spazazz.com | (801) 785-4990 | Booth Number: 6738
---
Kelley Technical Coatings
Kelley Technical Coatings Olympic Step Renew provides a simple process to revitalize old and weathered thermoplastic, acrylic and fiberglass pool steps used in vinyl-liner swimming pools. The Step Renew kit contains the tools, the cleaner and the coating needed to easily renew pool steps and extend their useful life.
kelleytech.com | (502) 636-2561 | Booth Number: 7447
---
Industrial Test Systems
The new Pool eXact EZ Starter Kit with Bluetooth delivers 11 pool water parameters with lab-quality results. All tests with the Pool eXact EZ use Industrial Test Systems' patented eXact Strips, a quick and easy reagent system for analysis. Simply dip an eXact Strip Micro into the water sample for 20 seconds using a simple back-and-forth motion, discard the strip and read the results instantaneously.
| (803) 329-9712 | Booth Number: 6563
---
Maytronics
Maytronics Dolphin LIBERTY has a new cordless design for unmatched agility and inductive charging, the company says. This product features "Magnetic-Connect" for easy snap-in-place and walk-away charging, as well as an Eco Mode, which keeps pools clean all week with short cleaning cycles. With powerful, intense scrubbing and a superior filtration system, get the same reliability and service platform as other Dolphin products.
maytronics.com | (888) 365-7446 | Booth Number: 4139
---
Solenis
Poolife was born from a deep appreciation for everything pool owners value: fun and function. It's uniquely designed to give consumers effective, easy-to-use products that make owning a pool feel like a holiday, every day. Not only is Poolife a leader of hassle-free pool care, it's also designed by the experts. With every Poolife innovation, consumers can spend less time maintaining their pool and more time loving it.
poolife.com | (800) 248-7665 | Booth Number: 5551
---
Marquis Spas
The new Crown Collection by Marquis delivers the company's best-selling therapy features and amenities in a range of price points. Exclusive Marquis innovations include patented Dynamic Flow Control valve, Regal Hydrokinetic therapy jets and optimized approach to MicroSilk Oxygen Skin Therapy. The Crown Collection has it all: stunning beauty, exceptional performance, quiet operation, ease of maintenance and fantastic margin opportunities.
marquisspas.com | (503) 838-0888 | Booth Number: 6936
---
Aqua Comb
Aqua Combs come in various styles that clean pool and spa cartridge filters. They are designed to clean filters in three to five minutes using less time and water. Aqua Combs attach to a garden hose and open the filter pleats, letting the comb and powerful water spray remove all the built-up debris. Benefits include a fully clean cartridge that will reduce electric bills, increase the jet flow and extend the time between filter cleanings.
aquacomb.com | (941) 922-7786 | Booth Number: 4835
---
The VacDaddy
The VacDaddy is a portable, powerful pool vacuum. It does not use batteries so there is no need for constant recharging. It mounts on any telescoping pole, adapts to any gunite or vinyl vac head and weighs only 10 pounds. Simply plug in and Just Vac It with 60 gallons per minute of suction for weekly service vacs. The V2W (Vacuum To Waste) attachment allows consumers to lift water, silt, algae and slime out in a power vac or trash vac situation. The VacBaggy carry bag will hold all VacDaddy equipment and more, with a telescoping handle and wheels.
thevacdaddy.com | (516) 213-4773 | Booth Number: 4732
---
King Technology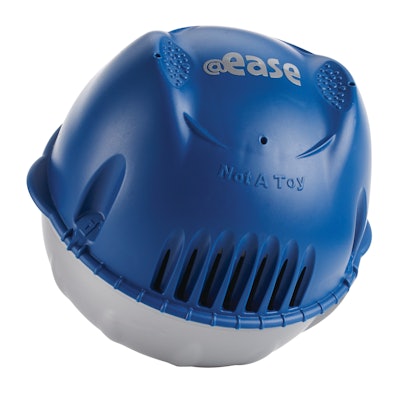 Looking for five facts that make FROG @ease different? 1. It's cleaner; it kills bacteria two ways with SmartChlor Technology and sanitizing minerals. 2. Sanitizing minerals help keep pH balanced and condition the water for softness. 3. It uses up to 75% less chlorine, without frustrating yo-yo chlorine levels. 4. It's easy to use with prefilled cartridges. 5. It contains 0% Cyanuric Acid. *Compared to the minimum ANSI recommended chlorine level of 2.0 pp. for a hot tub.
frogproducts.com | (800) 222-0169 | Booth Number: 5955