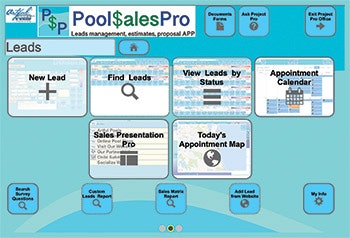 The pool salesperson has long had a wide selection of design software and apps from which to choose for drawing up pools and estimating costs. However, according to Mark Richter, vice president of sales for Pool Pro Office, there's never been a specialized app to help the pool sales professional manage leads and organize the sales process — until now, with the launch of Pool Sales Pro.
"Pool builders can use this app to track and manage leads, create estimates and customized spectacular proposals to ultimately close deals all in one place," Richter says. "Previously, these functions were only available to clients that subscribed to our full product, Pool Pro Office, which manages sales through pool construction and into service. We wanted to offer a standalone product for pool sales professionals.
"There are a lot of designers and salespeople that work for different companies or work for themselves selling pools, who have no software. When they're estimating costs they open up an Excel spreadsheet and work out how to price the pool, and then they go to a Word document to work up a proposal. They don't have one place that puts it all together in one place, and Pool Sales Pro offers that."
HOW IT WORKS
Managing multiple pool sales leads can be a juggling act of software tools and team members who need to access information. Staying organized is crucial for efficiency. A veteran pool salesman with decades of experience, Richter brought his thorough understanding of the process to the development of the app.
RELATED: Technology: A Small Business's Secret Weapon
"Here's how it works," he says. "As a salesperson, once you get a lead — name, address, contact info, what they were looking for and where the advertising came from, you can push a button and email the designer immediately.
"Then it's onto the intro letter. In pool Sales Pro, you create a letter in HTML that thanks the customer for contacting you and tells all the great things about your company. And that goes to the customer immediately. That's the initial contact."
Throughout the process, Richter says, the pool designer is able to share the digital lead folder and all the information and documents within, including customer communication and appointments, while the salesperson tracks the progress of the sale. At each stage, a customized email template keeps the customer engaged.
When it's time for an estimate and a proposal, a salesperson comfortable with Excel can continue using that software for the purpose if they prefer, or they can use the app's pricing program that builds custom line-item templates to generate an itemized detailed proposal for print or email.
And off it goes to the customer.
"What we've done is taken the process and built a system where every part of the process is connected," Richter says, "and all the documents are together in a file so you don't have to hunt for them. It's designed for pool salespeople, and there are plenty of salespeople that need that help."