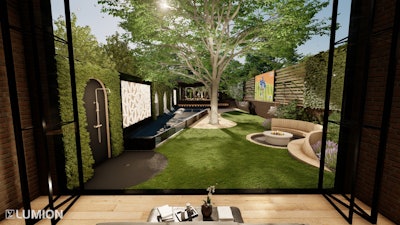 Reid Schindler, one of the industry's up-and-coming award-winning designers, and Mike Farley, who has 30-plus years designing award-winning pools, teamed up with the International Pool | Spa | Patio (PSP) Expo for the fourth year in a row to see who the industries top designers are by way of the Million Dollar Pool Design Challenge, which is now open for submissions.
A panel of judges will be picking five finalists (one young professional) to send to the PSP Expo in Las Vegas this fall. All finalist' presentations, as well as Mike and Reid's solution, will be presented on November 14, the second day of the Expo at "The Million Dollar Pool Design Challenge" Conference Program Session (location TBD).
Entries are due by September 21. See below for additional information, or follow this link.
Scenario
The clients are currently building their dream "forever" home on the intracoastal waterways in the Miami Beach area. They have just become empty nesters after raising three kids who are all in their twenties and hope to have the home that friends and family can enjoy year round. The space will need to be flashy enough to entertain some of the biggest names in the Miami area while also feeling warm and inviting for their future grandkids and other family members to enjoy. The couples favorite activities outside of the home are collecting latin inspired art and decor, spending time at their local country club, and taking their boat out on the intracoastal to their favorite dining and shopping spots.
Aesthetics and View
Love the view of the water but wouldn't mind a little bit of privacy in their secluded areas. Love modern design elements and Latin flair.
Elements
Lazy River featuring Riverflow Technology by Current Systems, Inc. (Bonus 5% for having it reviewed by Riverflow.)
Dramatic Front Entry
Front Drive w/ Fountain
Art Displays
Loves Fire & Water
Glass Tile Mural
Sunken Fire pit
Swim-Up Bar
Acrylic Glass Element
Group Spa
Private Spa
Possible Cold Plunge or Sauna
Normal Size Gathering of 25 to 30 People
Splash Pad
Daybeds
Outdoor Kitchen
Sun Ledge with 4-plus Loungers
Putting Green
Latin Flair