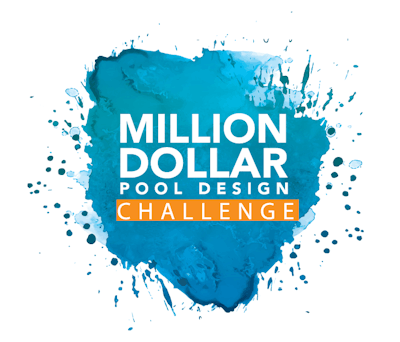 Reid Schindler, one of the industry's up-and-coming, award-winning designers and Mike Farley, who has a 30-plus year career designing award-winning pools, team up again to present The Million Dollar Pool Design Challenge, appearing at the International PSP Expo / Deck Expo in Las Vegas this fall.
The Million Dollar Pool Design Challenge is designed to give pool and landscape designers, builders and outdoor living architects a real-world scenario from which to deliver innovative design solutions without the restraints of a budget. The challenge consists of a fictional couple seeking a designer to create the ultimate oasis in their backyard. The project mimics what the pool industry often experiences when working with clients in real-world situations.
Below is the 2022 scenario, which also available on the contest's website here:
The clients are two lawyers — a husband and wife — who live in Chicago, Ill. They are seeking a nice setting for their home, which has a lower terrace area, front approach and rooftop terrace. Their goals for the space are health, wellness and self-care. The space will be used seasonally; as a Chicago-based project, the designer should consider wind, sun direction and shade. The couple will entertain six to 12 guests maximum.
Aesthetics and View:
Keep the view open, if possible, but the clients also want privacy
Prefer to have natural elements, but they love structured design
Elements to Include:
The use of a Riverflow Pumps by Current Systems application (lazy river, swim current system, or whitewater current)
A fire element to gather around
Cool lighting
A real or synthetic lawn space
The use of Ledge Lounger furniture
A hot tub and cold plunge are needed, possibly a sauna
An outdoor kitchen
A panel will be picking five finalists (and one student finalist) to send to Las Vegas. All finalist's presentations, as well as Mike and Reid's backyard solution, will be presented on November 16, the second day of the Expo, at "The Million Dollar Pool Design Conference Program Session" (location to be determined).
The winner can be voted on by the attendees of the design class. After video presentations of the finalist's designs, the class will vote for their favorite designer via a ballot. This vote will serve as a strong influence used by the judges panel to ultimately select the winner. The winner will receive a $10,000 cash prize, sponsored by Riverflow Current Systems, a customized trophy and an invitation to sit on the judges panel the following year.