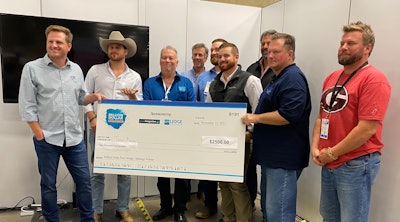 Tanr Ross of Poolscapes, LLC was named the winner of the 2021 Million Dollar Pool Design Challenge after a live vote at the International Pool | Spa | Patio Expo in Dallas, Texas.
The 2021 finalists, selected by a panel of judges, also included Dwight Souder of Mystic Pools, Rance Schindler of Complete Exterior Solutions, Ned Druart of Austin Water Designs and Hunter Gary of J. Brownlee Design. Their concepts were judged against a range of criteria, from aesthetic quality and differentiation to functionality and realization possibility.
The competition, created by Mike Farley and Reid Schindler, asks designers to flesh out a concept for a fictitious client with a lengthy wish list. This year's real-life site was a home just outside Phoenix, Ariz. The 'clients' sought a combination pool with part recreation and a number of other features, including a Mosaicist tile mural, Dolphin Water slide, Ledge Lounger furniture, putting green and more.
"Not only did he put out this project, [Ross] actually taught himself some new technology to be able to do it," says Farley on behalf of Ross, who was not able to attend the ceremony. "He taught himself SketchUp and Lumion, which I think is pretty impressive."
After a video presentation detailing each design, those in attendance participated in a live voting session, ultimately favoring Ross' work. He'll be invited to join the the judges panel for the competition in 2022.