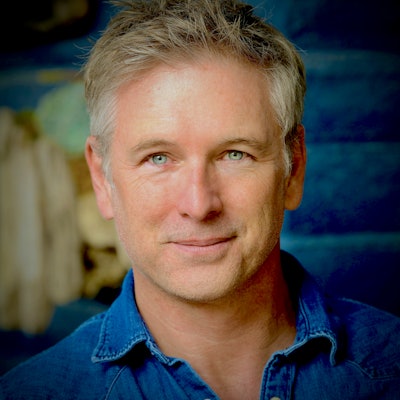 Informa Markets, the Pool & Hot Tub Alliance (PHTA) and the North American Deck and Railing Association (NADRA) are pleased to host two keynote speakers for the International Pool | Spa | Patio Expo, co-located with Deck Expo (PSP/Deck Expo). Registration for the event is now live, and industry professionals are showing their enthusiasm to reunite in person.
PSP/Deck Expo takes place November 13–18, 2021, at the Kay Bailey Hutchison Convention Center in Dallas, Texas. Pre-show education occurs November 13–15, with the main conference education and expo hall happening November 16–18. To kick off the event, a keynote address will feature two icons in the aquatics industry: Dr. Wallace "J" Nichols and Rowdy Gaines. The keynote is on Tuesday, November 16, at 9:00 a.m., and is included with all registration types.
Called a "Keeper of the Sea" by GQ Magazine, Dr. Nichols is an entrepreneurial scientist, renown marine biologist, wild water advocate and bestselling author. His current focus is on what he refers to as Blue Mind, a powerful new universal story of water. This story accurately describes the physical, ecological, economic, cognitive, emotional, psychological, physical and social benefits of healthy oceans and waterways. By connecting neuroscientists and psychologists with aquatic experts and artists to ask and answer exciting, new questions, his work is transforming many sectors, including health and wellness, education and parenting, arts, architecture and design, real estate and urban planning, travel and leisure and sports and recreation.
"The Earth is covered in more than 70% water," says Nichols. "Our connection to it is intrinsic. We feel better – mentally and spiritually – when we're around bodies of water. This industry knows even small watershapes, like pools and spas, offer incredible benefits. Humans are 'heart-wired' to love water – and the pros in the pool industry are helping their clients gain safe and healthy access to it."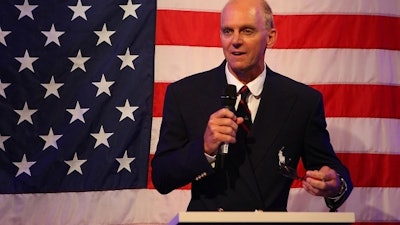 Nichols will speak first and then hand the microphone to Gaines, who is often referred to as "Swimming's Greatest Ambassador." He broke 11 world records leading up to 1980. After a brief hiatus, Gaines returned to the water and made the U.S. team for the Olympic Games in 1984. There, he won an individual gold medal in the 100-meter freestyle and anchored the gold-medal winning teams for the 400-meter freestyle relay and the 400-meter medley relay. Despite being inflicted with a life-threatening neurological disorder at the age of 31, Gaines made a comeback to his sport and was the oldest swimmer to qualify for the 1996 Olympic Trials. He decided not to compete, but instead became the swimming commentator for NBC. Gaines is a regular television commentator on NBC and NBC Sports for swimming and sporting events.
"This event will be a fantastic way to reunite the industry," says Gaines. "From the Olympic-sized pools I'm familiar with, to a family backyard pool, swimming is a fantastic activity with tremendous health benefits, in addition to providing the opportunity to connect with others. Swim lessons, competitive meets, community pools – are all ways to connect – with water as a base."
PSP/Deck Expo brings together builders, service techs, retailers and distributors. Thousands of members from the pool, spa, patio, decking and outdoor living community attend PSP/Deck Expo to engage with the latest products and services and to network. These interactions come in the form of new and existing connections, education sessions, demonstrations and more.
In addition to the keynote, a robust expo hall and more than 100 education opportunities during the week, event highlights include:
New: Grill + Chill Area – This year's expo will feature outdoor exhibits, with vendors specific to deck building, outdoor kitchens and grills and patio furniture. Vendors are invited to grill and serve lunch.
New: Deck Education – In spring 2020, the Deck Expo moved to its new home, as a co-location with PSP Expo. Together, the two events create a broader selection of products and technology for outdoor living. This year, PSP/Deck Expo will feature deck-focused education in not only the pre-conference sessions but in the core conference and show floor education, too.
Returning in 2021: BBQ Bash – We'll fire up the grill, and attendees can kick up their feet and enjoy a chill area while networking with industry professionals. Once the expo hall closes on Wednesday, the BBQ Bash starts, outdoors, in the Grill + Chill Area. Attendees can enjoy refreshments, and devour the goodies being roasted, grilled, poached and more.
Welcome Party – The Welcome Party is a networking event that kicks off the PSP/Deck Expo. Happening on Tuesday, November 16, it takes place at a local landmark – Gilley's Dallas. Attendees and vendors can mingle with colleagues, and enjoy food, drinks, and entertainment.
Million Dollar Pool Design Challenge – Based on a fictitious scenario, designers create an ultimate outdoor oasis with a million-dollar budget.
Various Special Events from Event Partners – The Pool & Hot Tub Alliance (PHTA), the official Show Sponsor; GENESIS, the official Show Endorser; and the North American Deck & Railing Association (NADRA), the official Show Sponsor of Deck Expo will be holding special events during the week. Between these organizations, everything from a Young Professionals' reception to an annual member meeting will take place.
The PSP/Deck Expo actively collaborates across the entire pool, spa, backyard, and decking industries to provide participants the most comprehensive array of networking, education, and technology available. The Pool & Hot Tub Alliance (PHTA) is the official Show Sponsor, GENESIS is the official Show Endorser, Pool and Spa News (PSN) is the official Show Publication, and the North American Decking and Railing Association (NADRA) is the Deck Expo Show Sponsor.