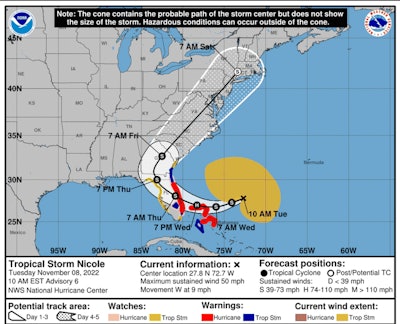 National Hurricane Center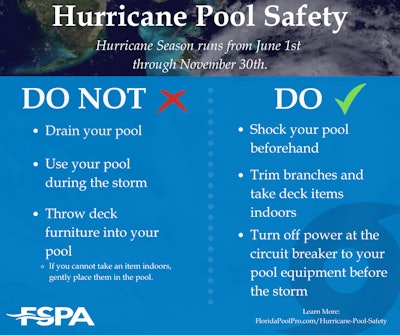 As hurricane season continues, the Florida Swimming Pool Association (FSPA) looks to provide tips and information to prepare swimming pools safely in case of a storm. There are many misconceptions about how to prepare your pool for a hurricane. Below are several important ways to ensure both public and private pools can be maintained safely throughout the inclement season.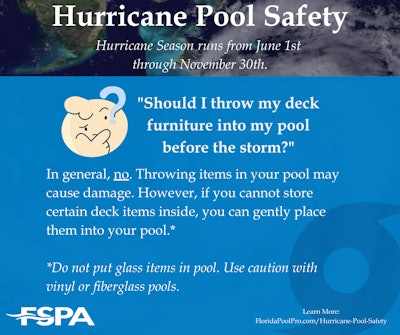 Should I drain my pool? No, you should keep your pool water level maintained. The weight of the water in the pool helps hold the sides and bottom in place. This is especially important with rising water table levels during a storm.
Can I put my pool loungers into my pool so they won't blow away? Yes, but you should not throw anything into your pool. Gently place items into your pool to avoid damaging your pool. Whenever possible, bring your items inside instead. Additionally, you should never put any glass items into your pool.
What other things can I do to prepare my pool for an incoming storm?
Shock your pool — You may lose power for an extended amount of time, so your pool should be 'super chlorinated.' This will help your pool's water chemistry.
Turn off all power at the circuit breakers before a storm hits — Any exposed electrical equipment, such as motors for the pumps, should be covered with plastic wrap or removed completely if flooding is expected.
Consumers who are seeking additional professional advice on storm preparation, or who have additional questions, can search for an FSPA member professional via the FSPA Membership Directory by clicking here.
Other hurricane safety tips for your pool can be found here: www.floridapoolpro.com/hurricane-pool-safety/