A major goal for the new indoor aquatics center at the Ethel Walker School in Simsbury, Conn., was to improve the quality of the air swimmers breathe during workouts through the use of a system that pulls in disinfection by-products and chloramines from just above the water's surface.
To that end, a stainless steel gutter system surmounted by a Paddock Chloramine Evacuator System was installed on all four sides of the pool by designer/builder Bill Drakeley of the Drakeley Pool Company in nearby Bethlehem, Conn.
"The worst air you can breathe in an aquatic environment sits on top of the water's surface," Drakeley explains. "The gases coming from the disinfection process are heavier than air. It's right there on the surface where swimmers are breathing, and when the water gets churned up, it sends contaminated air throughout the entire facility. That's why so many swimmers have to use inhalers just to get through their workouts or competitions. Even in well-maintained facilities with decent water quality, they're being forced to breath air that is somewhat toxic."
The evacuator system creates negative air pressure that causes all the bad air to enter the manifold through meter grates placed just above the water's surface. Large ducts, 18-inches in diameter at the Walker facility, then conduct the bad air away from the pool, where it's vented outside. The HVAC system replaces and heats the discarded air with make-up air.
"Otherwise, that gas is sitting low, and it can make the experience of being there miserable for both the athletes and spectators," Drakeley says. "And it can virtually destroy the building itself with rust and corrosion."
According to Don Baker, president of Paddock Pool Equipment, the system was developed after his company became involved in a failed facility in Greenville, S.C., which had gained a notorious reputation for bad air quality. Swimmers' coughing was so bad at the Greenville Aquatic Center that it became known as the "GAC Hack."
"The corrosion in the center was so severe that the building had to be condemned after only 17 years of operation," Baker recalls. "It had been built to last for at least 50. That's unacceptable!"
PREVENTING DAMAGE
In 2009, Baker, his company and members of the team charged with replacing the failed center started working on a design that would solve the problem, eventually giving rise to the evacuator concept. When the new center was finished in 2012, Baker reports the first evacuator system worked perfectly from the start.
"Our job is to provide a positive experience for swimmers in a pristine environment," Baker says. "The air quality in the building should be so good you don't even notice it. That's what we have now."
Since that first system was installed, Paddock has provided similar "source capture" systems for more than 200 facilities. While systems for new facilities are installed in gutters, as was the case with the Ethel Walker School, the company has also developed different system configurations more affordably suitable for retrofits. Those include systems with vents located in raised benches alongside the pool, mounted in deck drains or in nearby walls.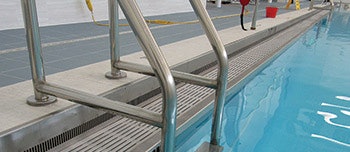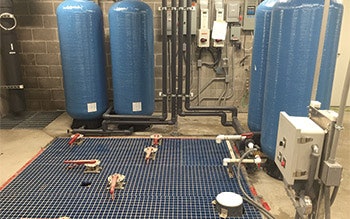 The rapid success of the technology has come in an era when the pool, spa and aquatics industries, as well as public health officials, are paying close attention to air and water quality problems in commercial aquatic facilities. Issues associated with disinfection by-products have led to model standards calling for the use of secondary disinfection technologies, chiefly ozone and UV, and other measures aimed at preventing respiratory problems, as well as water-related illness.
According to Mark Weber, product development manager for the Evacuator, the system is intended to compliment other key water quality management measures.
"The problem is that chloramine levels will build up even in low-use pools," he says. "It may be much slower in some pools than others, but when you have halogen disinfection, by-products are going to form."
A former elite competitive swimmer and Olympic hopeful, Weber says he spent his swimming career using an inhaler and fighting bronchitis, even though he was otherwise in great health.
"It's a serious issue and the problem can become severe in high-use pools," he says. "Trichloromine, for example, the chloramine species everyone talks about, boils at 71 degrees Fahrenheit. With most pools maintained at 78 to 82 degrees, the instant it's formed trichloromine off gases, and if you're swimming in that water, you're breathing it."
Both Baker and Weber are quick to point out that while though evacuating "bad air" from the water's surface has proven effective, it's only part of the overall treatment picture.
"For indoor facilities, you need a good HVAC system, which usually includes dehumidification, a source-capture system, secondary disinfection as well as general control over water quality through maintenance, filtration and hydraulics," Weber says.
COMPREHENSIVE TREATMENT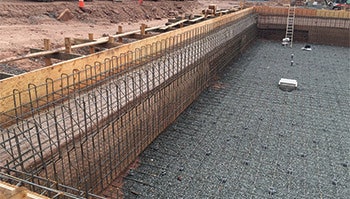 All of that is why, back at Ethel Walker, Drakeley and the project team developed a comprehensive system package designed to work together to create optimum conditions.
An open-air vacuum sand filter, also manufactured by Paddock, is installed below grade in the equipment room with automatic backwash cycling. "The filter also provides surge capacity," Drakeley explains. "And it serves as the point for adding fresh water and the control point for sensing all the parameters. We have integration software with the Chemtrol controller, so the office staff can plug in with their devices and see what the pool is doing."
As for chemical treatment: "We're using two Clearwater Tech units, producing 60 grams per hour, with four contact chambers," Drakeley explains. "We have floor inlets so that clean, ozonated water rises up through the entire pool. That in turn means we can reduce the amount of halogens and as a result create less chloramines. That doesn't mean they're not forming, but they do build up at a much slower rate," he adds.
The pool is equipped with four main drains and stainless steel fittings throughout. A 15 horsepower PACO pump drives the filter, two Pentair Intelliflo pumps run the ozone units. A slow release tablet feeder provides the small chlorine residual while pH is controlled using CO2.
AIR OF EASE
The project was completed in late summer 2016. In its first several months of operation, school officials report seamless operation and, above all, superior water and air-quality conditions.
"With the ability to remove the chloramines from the air, and to keep the chlorine levels down with the ozone, and everything else that went into the system, it's really powerful."
"I've worked with a lot of kids who have to use inhalers, but don't experience problems any place else," says Sarah Bednar, the school's aquatic director. "We don't have those issues with this new facility. Everyone, our students, their parents and staff, are all thrilled."
Comments or thoughts on this article? Please e-mail [email protected].