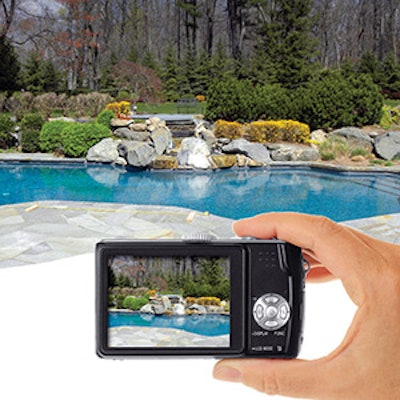 We all know swimming pools and spas provide a world of fun — but we also know safety is paramount when selling, building, servicing and simply enjoying them, too. According to AQUA's 2015 State of the Industry survey, 96 percent of pool and spa builders said they discuss safety with clients.
"We sell safety by building drainless pools to avoid suction entrapment," one respondent wrote.
"We have a safety binder we go over with clients during orientation," another replied.
Manufacturers take safety seriously as well, with dozens of companies offering products that keep the pool and spa zone healthy and harmless. Here, we take a look at just a selection of those items, from pool cameras and alarm systems to pool barriers, including nets and safety covers.
LOOP-LOC
Never A-B again with "IMAGE-LOC," LOOP-LOC's revolutionary way to measure covers with photos. To use, one person with one camera follows a few simple directions to achieve highly accurate cover measurements in just 10 to 15 minutes. There's never been a better, faster and more reliable way to measure swimming pools, the company says.
looploc.com | (800) LOC-LOOP
---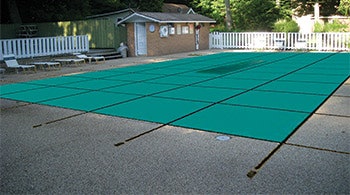 WaterWarden
WaterWarden manufactures standard, custom and freeform pool covers for any size or shape pool. And now, through the new Cover-Works program, WaterWarden will repair or replace any solid or mesh cover from any manufacturer expertly and economically, typically within 72 hours from quote confirmation/payment. WaterWarden will ship a carton for the return of your old cover for repair or replacement free of charge along with a return shipping label with freight prepaid.
waterwarden.com | (888) 560-7665
---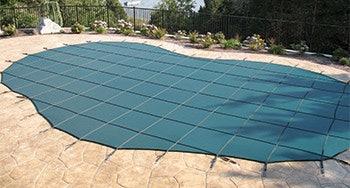 Merlin Industries
Merlin's standard mesh Dura-Mesh II has the best combination of sunlight shading, abrasion resistance, tear strength and burst strength of any other standard mesh cover on the market, the company says. In addition, according to Merlin the patented SmartMesh safety cover changed the direction of the safety cover industry when it became the first and only mesh material to provide 100 percent shade from sunlight and offer 40 micron filtration of debris. Less sunlight and less debris through the safety cover means less algae growth during the off-season and quicker, easier springtime openings.
merlinindustries.com | (800) 289-1836
---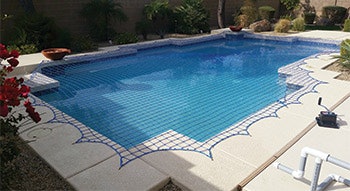 Katchakid
The Katchakid Swimming Pool Safety Net is designed as a barrier to help protect children from exposed, open water. As the inventors of the pool safety net, Katchakid has a 40-year,100-percent safety record. Like a large tennis racket, the UV and winter-safe net is stretched over the pool and anchored to flush-mounted fasteners. Available in custom colors to capture and enhance the ambiance and design of your customer's pool. Katchakid's pool safety net is ASTM F1346-91 compliant.
katchakid.info | (888) 552-8242
---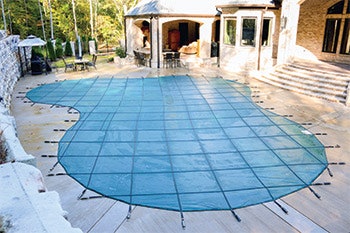 Tara Manufacturing
Tara Manufacturing offers you the quality and convenience you need to run your safety cover business. With Tara's online order portal, Tara 24/7, you have control of your safety cover orders from start to finish. Register for a free account to get instant quotes, place orders and track your shipment. All Tara safety covers come with heavy-duty springs and double webbing. Email your logo to customer service to get free custom labels stitched to your cover orders.
taramfg.com | (256) 725-2500
---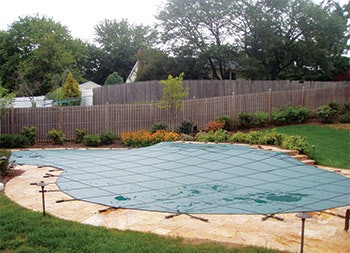 The Cover Company
The Cover Company provides high-quality safety covers with heavy-duty springs with locking pieces for quick installation. Tough-to-fit water features, including waterfalls, walls and other obstacles, are handled with ease. The Cover Company asks that builders looking for a quote should fax or email a drawing.
coverlon.com | (908) 707-1122
---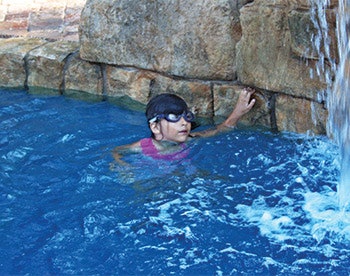 Rico Rock
Rico Rock offers unique coping/waterline pieces to be used as handholds under waterfalls for safety. Pool code states that there must be handholds every 4 feet if the water depth is over 4 feet. To ensure safety compliance, all raised beam and rock features should incorporate a handhold of at least 3 inches in depth to ensure a safe pool environment. Made of lightweight, cast concrete that is easily mortared, these coping waterline features are easy to add to the pool. Available for immediate shipment in a variety of colors.
ricorock.com | (888) 717-3100
---
CMP
The 32-Inch Unblockable VGB Safety Drain from CMP is IAPMO listed and designed with over 38 square inches of open area. Each drain includes an installation debris guard and is also available with six optional color accent covers. These are the only channel drain covers that completely hide the white PVC body for a clean, finished look, the company says.
c-m-p.com\vgb-drains | (800) 733-9060
---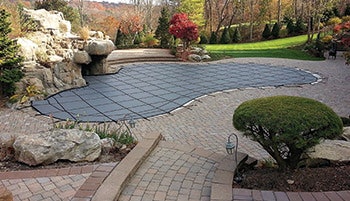 GLI
If you open pools in mid-spring and are looking for the benefits of a solid safety cover without the weight associated with it, the GLI ProMesh Safety Cover is the cover for you, the company says. This cover is made from a unique weave of polypropylene mesh that blocks out algae-producing UV rays, while still being 50 percent lighter than standard solid covers, meaning installation, removal and storage are all easily handled. All GLI custom covers are guaranteed to ship in 72 hours or less. Available in tan, gray, green and blue.
glipoolproducts.com | (800) 448-2343
---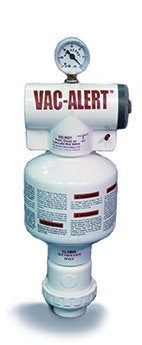 Vac-Alert
The Vac-Alert Safety Vacuum Release System is a self-monitoring, non-electrical, low-maintenance safety system that responds in milliseconds to an increase in pump suction vacuum that can be caused when someone is trapped. The system's spring-loaded piston reacts quickly, opening to the atmosphere and releasing the life-threatening system suction.
vac-alert.com | (800) 374-7405
---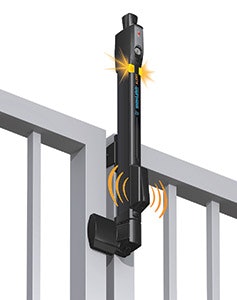 D&D Technologies
MagnaLatch ALERT from D&D Technologies is the world's first and only integrated safety gate latch and electronic alarm. MagnaLatch ALERT visual and audible alarms warn you if the gate is not fully closed or securely latched. Meets international pool barrier codes and is ADA compliant.
ddtechglobal.com | (714) 677-1300
---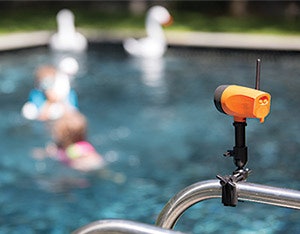 Hyndsight Vision Systems
Hyndsight Vision Systems introduces a portable, wire-free rear view vision system perfect for monitoring and keeping kids safe in the backyard pool area. Called Journey, the system is comprised of a camera and monitor with a sunlight-readable screen, antenna set and two mounts. Journey is rugged, weather resistant and provides real-time video through a direct connection (camera to monitor) and a clear image that can transmit up to one-third of a mile with direct line of sight, allowing parents to keep an eye on a pool area while inside the home.
hyndsightvision.com | (603) 924-1334
---

Cover-Pools
Cover-Pools automatic pool covers provide a reliable solution to keep families safe. This innovative design provides a safe, alternative solution to keep unwanted swimmers out, and saves homeowners up to 70 percent on heat, water, chemicals and cleaning. Cover-Pools' automatic pool cover requires fewer pool cover adjustments and features easier fabric replacements, the company says. Stainless steel cables now available.
coverpools.com/steelcable | (801) 484-2724
---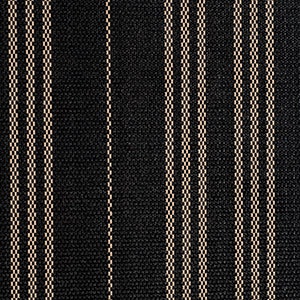 Latham Safety Covers
Latham Pool Products has recently introduced a new safety cover material: 9000MX Max Shade Mesh. This material is 20 percent thicker and stronger than other high shade mesh materials and comes in an exclusive designer pattern. When paired with Latham's leading manufacturing methods and heavy-duty hardware, the result is the strongest safety cover available in the industry, the company says.
lathampool.com | (800) 833-3800
---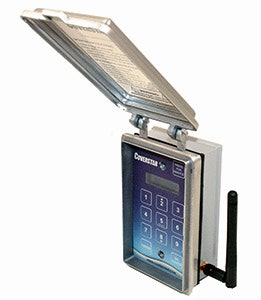 Coverstar
A Coverstar automatic safety cover provides a switch-operated barrier to keep your pool safe from unwanted intrusion. For 2016, Coverstar offers a number of unique features such as AutoDrain, a fully automatic cover pump, TouchPad with Wi-Fi, the only switch in the industry that sends notifications through text or email alerting you that your pool has been opened or closed and rotary limit, which interfaces with your primary control board to shut off water features when the cover is closed.
coverstar.com | (800) 617-7283
---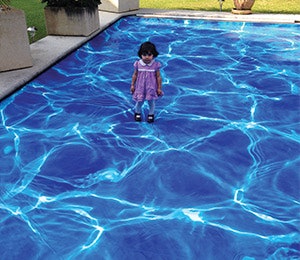 Aquamatic Cover Systems
Since 1980, Aquamatic Cover Systems has provided peace of mind to families around the world with both the Hydramatic hydraulic automatic and EZ-Cover manual safety swimming pool and spa covers, the company says. Both covers are third-party verified to exceed ASTM F1346-91 standards for safety, and both satisfy pool barrier codes throughout the U.S. and Canada.
aquamatic.com | (800) 262-4044
---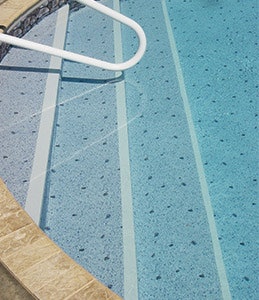 Fox Pool Corporation
E-Z VIEW steps use the liner floor pattern over the steps with an additional white or blue "stripe" welded on at the point where the riser meets the tread for greater visibility. The stripes are approximately 2 inches wide on the tread with an additional 2 inches on the riser, making it easy for swimmers to see the steps going in or out of the pool.
foxpool.com | (800) 723-1011
---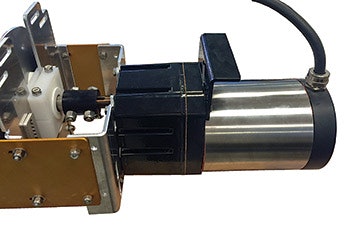 Pool Cover Specialists
Pool Cover Specialists' automatic safety covers are well known for their safety benefits, ease of installation and powerful electronics that reduce stress on the system and help keep ropes from breaking and the cover adjusted and running straight. New for 2016 is the optional three-wire motor that allows the power source to be relocated from the cover box to the cover switch, a stainless steel rope reel, patented four-tooth Double Dog with easy direction change pin technology and adjustable bottom mounting feet to help installations go smoother.
poolcovers.com | (800) 989-4926
---

S.R.Smith
S.R.Smith's comprehensive line of ADA-compliant transfer rails and stair rails are designed to meet current ADA guidelines. Two-bend and three-bend stair rails include the required 12-inch extension, stainless steel tubing qualities and height off the pool deck. Bent and straight transfer bars are available in a range of lengths and built to ADA structural strength requirements. All models are available in 304 or marine grade 316L stainless steel.
srsmith.com | (800) 824-4387
---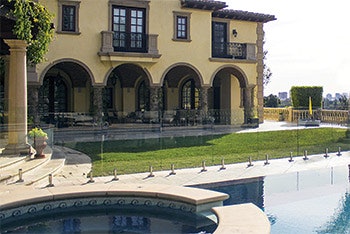 Aquaview Fencing
Aquaview's luxury glass pool fences and railing systems complement any outdoor space with a sleek, minimally intrusive design. Doubling as a modern accent piece and a safe, secure barrier, Aquaview's frameless glass enclosures provide customers with an elegant, stylish alternative to traditional fencing. Aquaview's products are not only architecturally designed to enhance and add value to residential and commercial properties, they are also certified to adhere to local and state fencing regulations.
aquaviewfencing.com | (877) 229-7034
---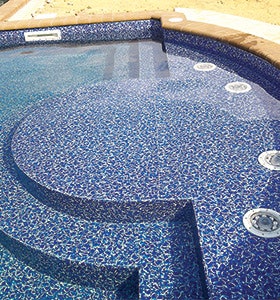 Pen Fabricators
Pen Fabricators now offers new textured and printed vinyl material for safer vinyl-covered features on pool liners. Due to increased demand for steps that are safer, yet blend with the pool liner, Pen Fabricators offers more than 15 patterns that are available in textured vinyl for steps, benches, swim-outs and sundecks. Solid colors are also available.
penfab.com |(800) 359-5350
---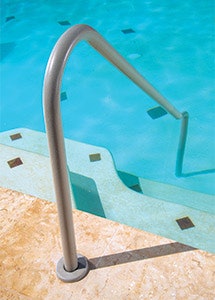 Inter-Fab
Inter-Fab offers a new line of Salt Pool Safe Thermo-Plastic Coated safety rails that provide an additional layer of protection against corrosion on salt chlorine generator pools as well as safety for entry and exit of swimming pools. These new stainless steel rails are treated with an advanced polymer coating that not only protects rails in harsh environments but also provides a safe grip and an attractive, texturized finish. Inter-Fab offers a complete line of handrails and ladders for the safe entry and exit of swimmers including custom rails and ladders and hundreds of standard off-the-shelf rail goods.
inter-fab.com | (800) 737-5386
---
Pentair Commercial Aquatics
Pentair Commercial Aquatics offers a complete line of Paragon custom-fabricated, corrosion-resistant, stainless steel railings to meet any pool specifications. Custom railings can be used for any pool application including entry, ADA compliance, stairs, deck guards and diving towers. Available in both 1.90-inch and 1.50-inch OD as needed. Design and engineering support readily available. Pentair Commercial Aquatics also stocks standard railings for immediate shipment.
pentaircommercial.com | (800) 831-7133
---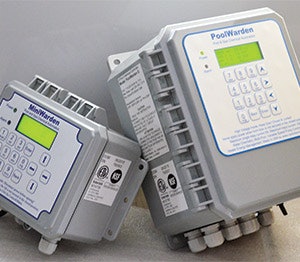 ControlOMatic
ControlOMatic's PoolWarden controllers offer alarm features to ensure the safety of the pool water for swimmers. The PoolWarden controller notifies homeowners and/or pool operators when pool or spa water chemistry or temperature is out of tolerance to ensure swimmer safety. Alarms are activated by sensor measurements and automatically reach out with a text message or email to prevent health hazards. Pool Warden also offers an easy-to-see red alarm LED on the enclosure exterior.
controlomatic.com | (530) 205-4520
---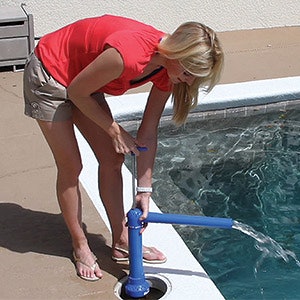 Water Tech
Water Tech's Pool Blaster Skimmer Vac is a hydraulic, easy-to-use manual device that effortlessly removes and pumps out debris from virtually any pool skimmer basket, protecting hands from contact with leaves, twigs, insects, rodents and other "untouchables." Debris is instantly removed and sealed in a watertight compartment without the need to remove the basket itself.
watertechcorp.com | (800) 298-8800
---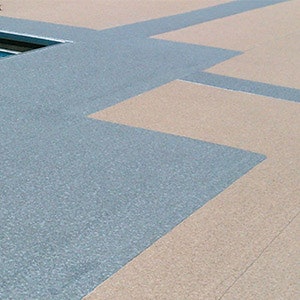 RenoSys
RenoSys RecDeck PVC Flooring is designed to encapsulate and waterproof any deck area, making it slip resistant. Constructed of a thick reinforced PVC membrane, RecDeck is the ideal solution for common deck problems including cracking, flaking, de-lamination, spalling and peeling. Offers an aggressive slip-resistant texture and a superior anti-fungal formulation, making it ideal for pool decks. Available in light gray, dark gray and sand colors to match the latest in backyard décor. Made in the USA.
renosys.com | (800) 783-7005
---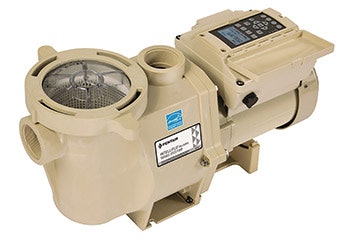 Pentair Aquatic Systems
IntelliFlo VS+SVRS and IntelliPro VS+SVRS variable-speed swimming pool pumps have a built-in controller and proprietary software that detects suction outlet blockage and automatically shuts the pump off. These pumps provide reliable compliance solutions and significantly reduce operating costs. Their permanent magnet motors with totally enclosed fan cooled construction increase durability and extend service life. On the market since 2008, they were among the first pumps to receive Energy Star certification.
pentairpool.com | (800) 831-7133
---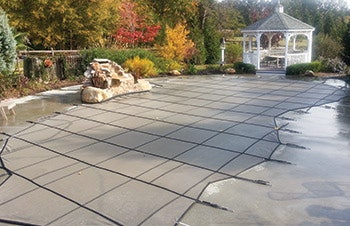 McEwen Industries
McEwen Industries is excited to offer tan Super Solid Safety Covers in 2015. Out of the four different types of cover materials the company offers, the Super Solid is the strongest and most puncture resistant. The Super Solid also weighs less than a traditional solid cover, which makes it easier to manage when installing or removing the cover. Available in green, blue and tan colors.
mcewenindustries.com | (704) 365-807
---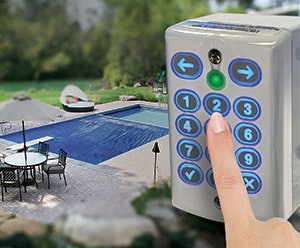 Automatic Pool Covers, Inc.
The PowerTouch eTL automatic pool cover controller features industry-exclusive torque limit adjustment with one finger, making it 100 percent tool-less. PowerTouch allows one person to adjust torque in less than 20 seconds. No need to lift lid or stones. The company says it is more reliable than mechanical torque limiters and proven to add years to rope life and drive components.
apc-mfg.com | (800) 878-5789
---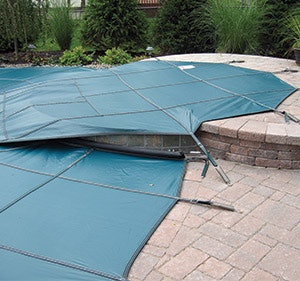 Meyco Pool Covers
Meyco's custom SuperFlap design allows easy use of a connected spa during the cooler months. Integrated directly into the main pool cover, the Superflap spa cover provides a one-piece install for the entire poolscape instead of an extra cover requiring separate installation. This virtually seamless integration means easy access to the spa for your customer while keeping the main pool secure. The SuperFlap one-piece design also eliminates wrinkles and undesired gaps when both the pool and spa are closed.
meycocovers.com | (800) 446-3926
---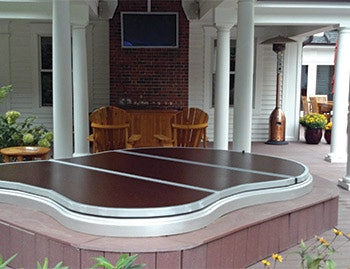 Be-Lite
The Be-Lite Aluminum Spa Cover is made to withstand the harshest elements and the toughest pets, making it a true safety cover, the company says. Covers are UL listed, meet ASTM safety standards and won't absorb water or buckle under heavy loads. Each cover is custom made with a variety of colors available.
be-lite.com | (707) 864-8919
---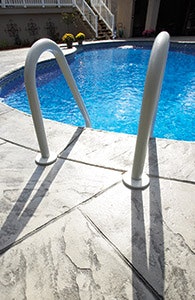 Fabcote
Fabcote offers a line of powder-coated safety rails for swimming pools and spas. Fabcote's state-of-the-art, in-house powder coating facility produces an exceptionally durable finish to resist corrosion. The surface of the rail is evenly coated using an electro-static process that drives the coating material into and around all surfaces. Made of high-grade 304 stainless steel, these rails are ideal for increased safety in the pool area. Both standard and custom rails and ladders available.
fabcote.com | (800) 815-6083
---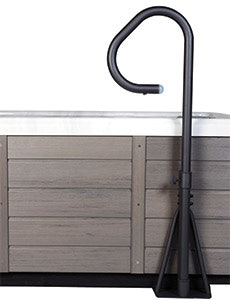 Cover Valet
The Spa Side Handrail is the most user-friendly spa side assist product on the market, the company says. This device provides 360 degrees of movement to allow for easy spa entry and exit. An added locking feature enables the handrail to be fixed in any position for increased safety and peace of mind. The Spa Side Handrail slides under the spa cabinet for complete installation and requires no hardware or assembly. The attractive carbon gray powder coat is accented by the new battery-powered LED mood lighting located on the interior curve of the rail.
covervalet.com | (800) 730-7727