Once upon a time, there were two national pool and spa industry organizations and two separate certification structures. NSPF had its certifications for service pros and builders and other pool professionals, and APSP had a separate but equivalent set, leading to confusion and conflict.
Then, fortunately for everyone, the two organizations merged, simplifying life in many ways and paving the way for a rationalized, straightforward certification regime. Since NSPF and APSP came together to form Pool & Hot Tub Alliance (PHTA) on April 1, 2019, educational leaders have been making steady progress untangling the certification process and producing a single coherent system.
Last year, for instance, NSPF's Advanced Service Technician (AST) program was phased out, clearing space for PHTA's Certified Pool & Spa Service Technician (CST) program to become the universally recognized badge for service techs.
One of the biggest decisions — about builder certification — has been clarified recently, helping to make simple and straightforward the path for builders looking to acquire credentials and training that can help make them more profitable and successful.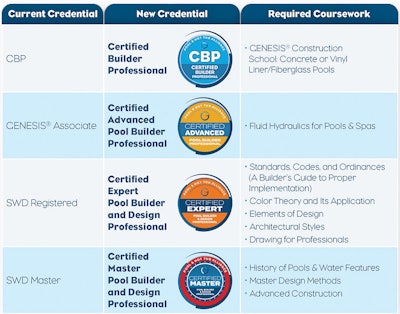 The new certification regime for builders is laid out in the chart above. Find the current credential in the left column, the new credential in the middle column, and the coursework required to achieve it in the right column.