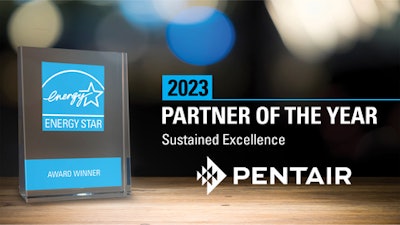 Pentair is proud to announce it received the 2023 ENERGY STAR® Partner of the Year – Sustained Excellence Award from the U.S. Environmental Protection Agency (EPA) and the U.S. Department of Energy.
"Pentair is built on delivering smart, sustainable water solutions with the aim to create products and solutions that are more efficient and have a reduced environmental impact," says Karla Robertson, EVP, General Counsel, Secretary and Chief Social Responsibility Officer. "We are proud of our continued collaboration with the EPA and honored to be recognized as an ENERGY STAR Partner of the Year once again."
A Decade of Energy Excellence in the Pool Industry
Pentair was first named an ENERGY STAR Partner of the Year in 2013, and has been recognized in each consecutive year – "longer than any other manufacturer in the pool industry," the company says. It goes on to say that, "Pentair was the first manufacturer of pool equipment to receive ENERGY STAR certification for its pool pumps and offered 17 ENERGY STAR certified pool pump models in 2022. This helped U.S. consumers save approximately 1 billion kWh of energy, resulting in greenhouse gas (GHG) emissions reductions of 414,974 tons of CO2 and saving $142 million in operating costs.* Since 2005, Pentair's ENERGY STAR pool pumps have been responsible for a cumulative 38.9 billion kWh of energy savings, a reduction of 15.9 million tons of CO2 emissions and $5.3 billion in operative cost savings for U.S. consumers."
Championing Energy Savings in the Commercial Ice Industry
In 2022, Pentair acquired Manitowoc Ice, a leading provider of commercial ice makers and a key contributor to ENERGY STAR Partner of the Year award winners for 14 consecutive years. With 56 ENERGY STAR certified models, Manitowoc Ice is a champion of energy-saving efforts in the ice machine industry. In 2022, Manitowoc Ice's ENERGY STAR ice makers helped consumers save over 21 million kWh of energy, enough to power 2,055 homes for a year.**
Each year, the ENERGY STAR program honors a select group of businesses and organizations that have made outstanding contributions in the transition to a clean energy economy. ENERGY STAR award winners lead their industries in the production, sale, and adoption of energy-efficient products, homes, buildings, services, and strategies. These efforts are essential to fighting the climate crisis, protecting public health, and creating a clean energy future for everyone.
Winners are selected from a network of thousands of ENERGY STAR partners. For a complete list of 2023 winners and more information about ENERGY STAR's awards program, visit energystar.gov/awardwinners.
*Savings are based on a weighted average annual kWh savings from the Consortium for Energy Efficiency (CEE) at $0.14 / kWh. Individual Weighted Energy Factor (WEF) scores and savings may vary by model. For more information regarding the energy efficiency features of current Pentair pool pump offerings, including WEF scores, please visit pentair.com/energystar.
**Based on average annual electricity consumptions for a U.S. residential utility customer of 10,632 kWh in 2021. Source: U.S. Energy Information Administration.