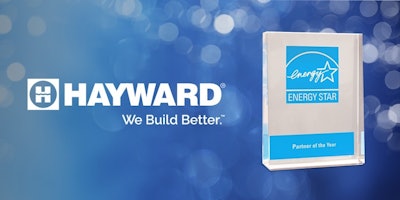 Hayward Holdings, Inc. (NYSE: HAYW) ("Hayward"), a global designer, manufacturer and marketer of a broad portfolio of pool equipment and technology, announced the company has received the 2022 Energy Star Partner of the Year Award — the highest level of recognition for corporate energy management programs given by the U.S. Environmental Protection Agency (EPA).
The Energy Star Partner of the Year Award recognizes businesses that perform at a superior level of energy management, demonstrating best practices as well as industry leadership, product innovation and an overall commitment to environmental protection through energy efficiency and Energy Star.
"At Hayward, we're committed to building better pool solutions — and a steadfast focus on energy efficiency is a major part of how we do that," says Matt Kimball, vice president of marketing at Hayward. "We are exceedingly proud to have earned the Energy Star Partner of the Year Award for 2022, and we look forward to continued innovation."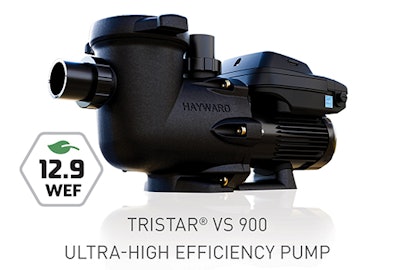 According to Hayward, the company's pool equipment portfolio contains the broadest range of Energy Star certified pool pumps, including its industry-leading line of ultra-high efficiency pumps: the No. 1 rated pumps in energy efficiency*. Omni SmartPad pool and spa automation products — which allows pool owners to set schedules and adjust their pool equipment remotely via their smart device — provide another energy-saving standout, the company says.
"I salute the 2022 Energy Star award winners," says EPA Principal Deputy Assistant Administrator for Air and Radiation Anne Idsal. "These leaders demonstrate how energy efficiency drives economic competitiveness in tandem with environmental protection."
The Energy Star recognition builds on Hayward's ongoing research and development initiatives in water conservation, automation and alternative sanitization options which help make pools more environmentally friendly.
For more information about Hayward products and ENERGY STAR certified products, visit hayward.com/energystar.
*Based on TriStar VS 900 among in-ground pool pump ratings, per U.S. Department of Energy efficiency metrics as of April 1, 2022. Visit hayward.com/regulations for details.