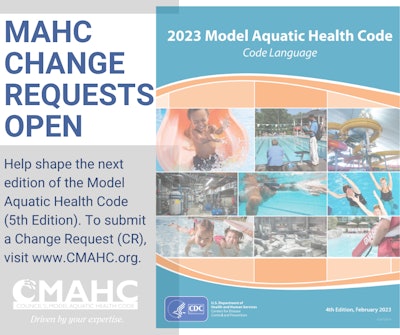 The Council for the Model Aquatic Health Code (CMAHC) is now accepting Change Requests (CRs) for the next edition of the Model Aquatic Health Code (MAHC) (5th edition). CRs opened on April 17 and will close on Friday, October 13, 2023.
Anyone can submit a CR but must register via CMAHC's website to do so. To submit a CR, visit https://cmahc.org/change_requests. Submissions are limited to 50 CRs per person.
What is a Change Request?
The CMAHC collects, assesses and relays MAHC Change Request recommendations to CDC every three years via its triennial Vote on the Code conference, scheduled to take place in February 2024 (details here). During this conference, CMAHC members gather, assess and decide on proposed Change Requests to the MAHC.
Change Requests are suggested changes to improve and/or update the MAHC. CRs are solicited from CMAHC's membership, the public or created through CMAHC's Ad Hoc committees. See full details on the Change Request process and overall MAHC update process here.