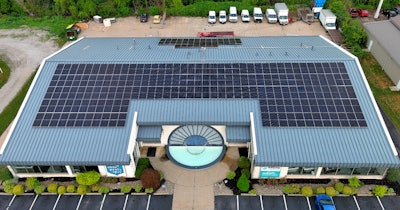 A new solar panel installation at two Ohio Pools & Spas facilities will improve operations by saving the facility money and showcasing their sustainability initiatives to customers across the state. Kokosing Solar, a leading provider of solar panel installation services in Ohio, has announced its recent partnership with Ohio Pools & Spas, a premier equipment supplier of pool and spa supplies in northeast Ohio. The solar panel installation at Ohio Pools & Spas will allow the business to significantly reduce its carbon emissions while generating long-term financial benefits associated with decreased energy costs.
David Zelasko, the commercial solar consultant who worked with Ohio Pools & Spas on the project says, " Kokosing Solar is proud to support local businesses like Ohio Pools & Spas. Our mission is to help businesses save money, be more efficient and meet their sustainability goals, and the Ohio Pools & Spas locations were a great fit."
On an annual basis, the solar systems will produce 138,487 kWh of energy, meaning the solar energy produced will offset the total energy use by over 50% at each building. Ohio Pools & Spas was able to take advantage of federal tax incentives for solar installation, which covered almost 50% of total project costs. Over the 30-year lifetime of the system, the project is estimated to save over $290,000 for the business.
"Wellness is at the core of the products and service our business offers and why we do what we do," says Amanda Annis, president of Ohio Pools & Spas. "The wellness of our customers, our employees, our communities is our top priority. We're very grateful for Kokosing and to be able to invest in more sustainable and independent energy production to contribute to the wellness of our business and community."
Ohio Pools & Spas is one of many Ohio businesses promoting the benefits of sustainable energy solutions. With this successful installation, Kokosing Solar looks forward to collaborating with more organizations in the state to help them achieve their sustainability goals.
For more information about both Ohio Pools & Spas and Kokosing Solar, head over to their websites at ohiopools.com | kokosingsolar.com.