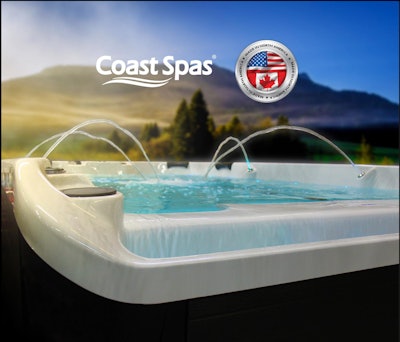 Coast Spas Manufacturing, a leader in the luxury hot tub industry, has announced its new distribution agreement with Catalina Spas Ltd, an experienced distributor of premium hot tubs. This collaboration marks a significant step forward for both companies as they work together to develop and expand the Coast Spas brand and network within the United Kingdom.
"We are extremely excited about this new partnership with Catalina Spas Ltd," says Sean Corscadden, vice president of sales & marketing at Coast Spas Manufacturing. "Their extensive experience and established network in the UK hot tub market make them the perfect partner to help us further expand our presence and reach in the region. We are confident that this collaboration will not only benefit our brands but also provide significant value to our dealer network and customers."
The new distribution agreement marries two industry-leading companies who preach exceptional products and high-level service. Catalina Spas Ltd, with heads Stephen and Sophie Crabb, has a long history of selling to the UK market. It is this experience that Excites Coast Spas Manufacturing as they move into this new venture.
The partnership between Coast Spas Manufacturing and Catalina Spas Ltd represents a strategic move to leverage each other's strengths and capitalize on the growing demand for premium hot tubs and wellness products in the United Kingdom. The combined expertise of both companies is expected to drive increased availability of Coast Spas' range of innovative and luxurious hot tubs across the country.
Stephen Crabb, founder of Catalina Spas Ltd, expressed his enthusiasm for the partnership, saying, "We are thrilled to be joining forces with Coast Spas Manufacturing. Their reputation for manufacturing high-quality, feature-rich hot tubs aligns perfectly with our commitment to delivering excellence to our customers. We look forward to a successful collaboration that will benefit all stakeholders involved."
For more information about Coast Spas Manufacturing and Catalina Spas Ltd, please visit coastspas.com and catalinaspas.co.uk.