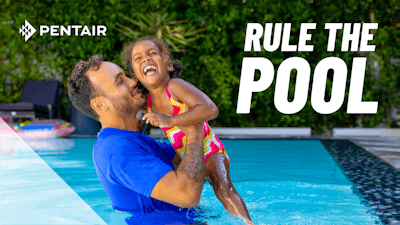 Pentair is excited to help its customers and pool owners Rule the Pool during the 2023-2024 season with its latest marketing campaign. Leading with Pentair's innovative products that deliver energy efficiency, effortlessly fast automation, and eye-popping illumination, Pentair's full suite of products help pool professionals and owners Rule the Pool.
Pentair says the campaign goes beyond just products and really focuses on how the company is an industry leader in quality and innovation, with education and expertise to help pool professionals install and service their customers' pools with less downtime and more time to sustainably enjoy water.
"At Pentair, we work to help more people sustainably enjoy water, and our new campaign Rule the Pool celebrates the pure enjoyment pool owners and pool professionals share when their pools are running great," says Jillian Swift, Pentair's group marketing leader,
"It's a campaign we can all get behind. Our employees, who strive to deliver innovative, quality products and support; our customers, who work to ensure no pool owner is left unsatisfied; and pool owners who want to focus on making memories that last a lifetime in their pool. When these things all come together, we can all more confidently Rule the Pool. There's nothing better than celebrating what we all show up for every day in an energizing and exciting campaign," added Swift.
Rule the Pool is rolling out this summer, and it's sure to make a splash.