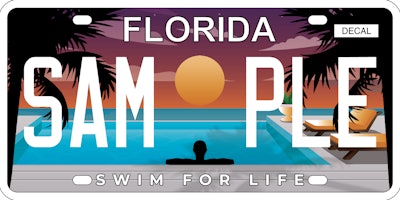 The Florida Swims Foundation (Foundation) has unveiled its new "Swim for Life" license plate that is now available for pre-order through the Florida Swims Foundation website in conjunction with the Florida Department of Motor Vehicles.
The Foundation, which operates under the umbrella of the Florida Swimming Pool Association (FSPA), collaborated with graphic designers at Converge Public Strategies to create the license plate art.
Sales of the plate will benefit the Foundation's mission to fund swimming lessons for children throughout the state of Florida.
"We are thrilled to share this new opportunity with the public as a way to invest in the Foundation's mission of providing education around water to under resourced children. Swim lessons are life changing and every child should have access to them," says Elizabeth McMurray, FSPA executive director.
The license plate is currently accepting pre-orders through a variety of options, which are detailed in the graphic included.
"The partnership between the Florida Swims Foundation, FSPA, and various state regulation agencies is stronger than ever after our collaboration on this important project," says Dallas Thiesen, FSPA senior director of Government Affairs. "We look forward to continuing our work together as we move into the implementation phase with license plate pre-sales."
The specialty license plate will be offered to motor vehicle owners statewide once it hits a 3,000 minimum pre-order threshold. Once met, production will begin immediately on the plates and they will be distributed to drivers statewide.
"It has long been a goal of the Florida Swims Foundation to create a long-lasting visual symbol of our mission," says Ben Evans, president of the Florida Swims Foundation. "To have the new 'Swim for Life' plate be that symbol is the realization of that goal. We are excited to share our mission with Floridians state-wide through this new venture."