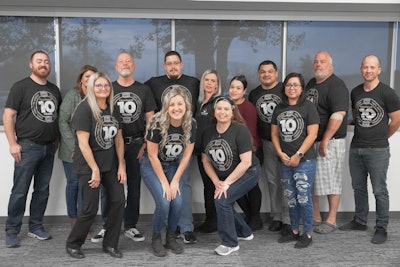 Haviland Enterprises, a globally recognized manufacturer and distributor of specialty and commodity chemistry, attributes its recent record-breaking success to being an employee-owned, Employee Stock Ownership Plan (ESOP) company. This month Haviland is celebrating 10 years of being 100% employee-owned.
"Haviland's success is a reflection of our ESOP culture," says Meg Post, Haviland president and CEO. "Our employees take immense pride in their jobs and work extremely hard to create value for our customers, employee-owners and communities."
Haviland Enterprises, the holding company for Haviland Products Company, Haviland Pool and Spa and Baleco International, will reach a significant milestone of $200 million in sales this year.
"Our team's commitment to providing customers with creative chemistry solutions has allowed us to thrive in a difficult operating environment, leveraging our chemical manufacturing and formulation capabilities to launch new products and service new markets," says Post.
Currently, Haviland employees average nine years of service, which many attribute to the ESOP.
An ESOP is an employee retirement benefit plan that enables companies to give a portion or all of its stock to employees through a trust. The company repurchases shares following employment, allowing employees to accumulate wealth based on the company's growth and success.
"It's incredibly rewarding to build long-term, equitable wealth for all of our employees," says Post. "I attribute our success to the dedication of our team, who think and act like owners and are continually finding ways to drive growth through investment and continuous improvement."
Founded by J.B. Haviland in 1934, Haviland became a partial ESOP in 1997 with 54% of the company owned by the Haviland family and 46% owned by employees. The family sold its remaining shares to the ESOP in 2012.