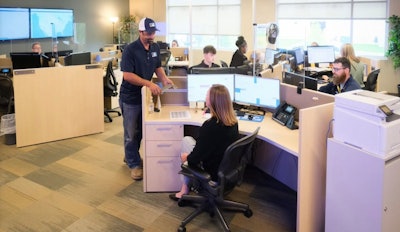 Cover Care, LLC, a national full-service automatic pool cover company specializing in installation and maintenance, is pleased to announce it has expanded its Builder Support Team. Cover Care welcomes 12 builder-dedicated team members to assist builders with all their automatic pool cover needs.
The Builder Support representatives (or BSRs) each receive extensive training in the application, manufacturing and construction of automatic pool covers allowing them to answer questions, help design covers, place orders for automatic pool covers, and even troubleshoot potential cover issues over the phone. Additionally, the team has over 80 years of combined industry experience.
"We developed this department so that builders have a dedicated phone number to call and speak directly to a highly trained member of our team to get questions answered quickly, place orders, and ultimately get their automatic pool cover needs fast," says Shannon Facey, national customer service manager. "We have coast-to-coast BSRs available across all time zones so we can communicate with pool builders when it's convenient for them."
One of the most unique services this department provides is the ability to collaborate with installers and builders with all forms of communication. "We have dedicated text messaging capabilities so installers can quickly text us photos and messages in addition to answering emails, and we even still receive and process faxes for those that prefer to work with the fax machine," explains Facey. "Our goal is to make it easy for our pool builders to do business with us — and our efficiency allows us to install the right product, right on time."
The expansion of this department is a part of the company's commitment to ongoing improvement in customer service to pool builders in the pool/spa industry. Facey adds, "We are excited to have these excellent customer-focused team members to provide the best service to our builders."
To learn more about the company, visit www.CoverCare.net/pool-builders or call (866) 639-5045.