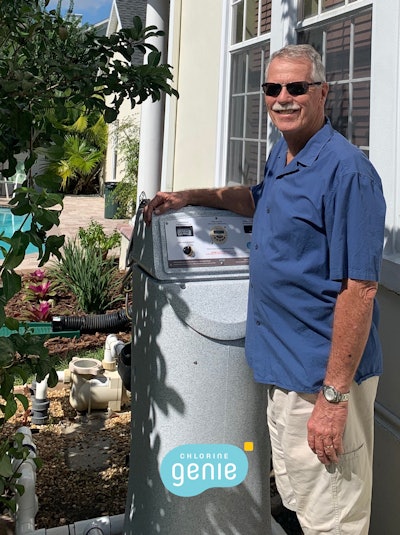 Chlorine Genie, the flagship product of Ultimate Water, is pleased to partner with MCWo3, LLC, a sales team of four pool professionals managed by Dave Tennant who will be representing the Chlorine Genie and several other products in Florida.
MCWo3, LLC is veteran firm led by Dave Tennant, who works with a team of professionals that focus on pool water filtration and sanitation with top resorts in Florida as well as commercial and residential pool professionals in the Southeast United States. MCWo3 will be responsible for sales of the Chlorine Genie, a patented technology that uses an electrolytic cell submerged in salty, brine-softened water to produce chlorine using reverse osmosis and a water descaling system built right into the unit — making it a simple solution to set up and maintain. The only inputs to the system are salt and water.
"We are very excited to offer this revolutionary product to our clients this season, especially in light of the industry's chlorine shortage," says Tennant.
Thomas Vessiere, national sales director at Ultimate Water, says, "Having Tennant and his team on our sales staff will help ensure the Chlorine Genie solution will quickly make its way into both the residential and commercial market in Florida."
Pool Builders and Service Companies wishing to incorporate the Chlorine Genie can contact (800) 970-7616 or email sales@ultimatepoolwater.com. In Florida, Dave Tennant can be reached (321) 228-5119 or by email at sales@recaquatics.com.