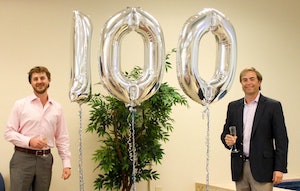 America's Swimming Pool Company has granted franchise rights to its 100th franchise owner. Fewer than 19 percent of franchise organizations reach that number.
"Hitting the 100th franchise owner mark is a significant milestone and huge achievement for our company," says Stewart Vernon, founder and CEO of ASP. "The franchise development team at corporate does a great job with getting new owners interested in our unique franchise model, but the best reason why so many new franchise prospects join ASP are the validation calls with our current owners. This means a lot and helps us know that we are doing things right."
"Right now is an exciting time to be a part of the ASP family," says Jef Flournoy, vice president of franchise sales and development for ASP. "We will continue to expand our reach and achieve new milestones."
ASP's thriving franchise organization can be attributed to Vernon's concentration on overall franchisee growth.
"Our team is dedicated to giving franchisees the support they need to be successful on an individual level and keep the focus on their success," Vernon says. "This franchisee focused mindset is how we have managed to grow the brand while keeping our franchise owners profitable and happy."