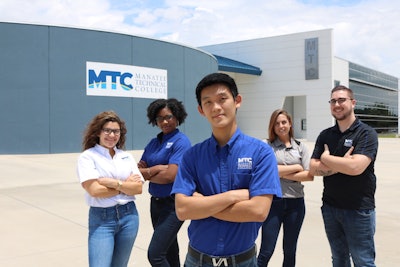 To help draw more job candidates to the pool and spa industry, the Florida Swimming Pool Association is developing a 600-hour course that will be offered at Manatee Technical College (Bradenton, Fla.).
Plans for the course began when Mary Anderson, education program manager for FSPA, met with MTC's president at a conference.
"We started talking and came to the realization that there has not been a program specific for the swimming pool industry," she says. "We could create something that would be of value and that would add legitimacy to a career in the swimming pool industry. It snowballed from there into the starting development of a course."
Initially, the developers planned to pull skills from other MTC courses, including construction and electrical programs. Though a good idea in theory, it did not work in practice.
"Pool piping is not plumbing," Anderson says. "There are differences from general construction, to home or commercial construction, to constructing a swimming pool. Now we're finding content experts in the industry to fill in those gaps for the instructor."
These experts will comprise a group of contractors in different areas of the industry who can be contacted for guidance while the instructor develops the curriculum.
"When he has questions or comes upon specific items that he needs direction in, they're available to help," Anderson says. "We also have a small advisory to the campus, and within the association we have a committee for workforce education. There's a lot of knowledge we're able to share."
RELATED: Pool Builder Creates Industry Apprenticeship Program
As it stands, the course has two tracks: construction and service/maintenance. Both share a core program of skills that includes (but is not limited to) safety, math, hand and power tools, blueprint reading, the history of the pool industry, cleaning procedures and Florida codes and statutes.
After completing the core program, students have the option to choose from one, two or both of the 300-hour tracks. The construction track features courses like design, permitting, inspections, excavation, plumbing, electrical, masonry and pool finishes. The service/maintenance track features pipe fitting, electrical and hydraulics, and includes EPA certification.
Anderson expects the first students to start the program in the 2018/2019 school year.
Make Your Own Program
This is not the first program aimed at training and developing new workers in the industry. A Virginia-based pool builder, for example, established his own state-accredited apprenticeship program. Anderson expects to see more builders develop similar programs in the coming years.
"Apprenticeship is part of what the [Career Technical Education in the state of Fla] is looking at to bring individuals into the construction industry," Anderson says. "There's a workforce taskforce that was implemented, not last legislative session but the one before that, to look into construction trades and what they're doing in K-12 schools."
That sort of exposure is crucial to instilling interest in students' minds. "[The pool and spa industry] is a way to earn a great living and a lot of young people just don't know that," Anderson says. "A lot of the students need to see that stuff happening."
Those interested in creating a program of their own, Anderson says, should start by looking for inroads with local technical and trade schools.
"It's really all about building those relationships," Anderson says, "to see if the community can support that kind of program, or if it's something that the school is interested in doing."
These partnerships, Anderson notes, provide critical support throughout the whole process, especially when it comes to working with the Department of Education.
"I don't think that on our own we could have gotten to the point to develop a program," Anderson says. "Having a program that could be approved by the state's Department of Education as a curriculum that can be disseminated throughout the whole state is a great way to do it. Technical colleges are always looking for that next area that they can bring employment to the community."