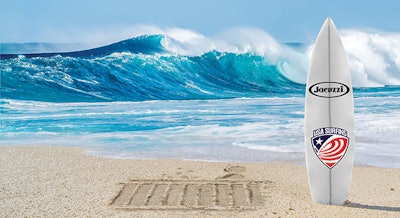 After years of campaigning, surfing is expected to make its long-awaited Olympic debut at the 2020 Summer Olympics in Tokyo. To help athletes prepare to hang ten and stay in peak physical condition, USA Surfing has announced a partnership with hot tub giant Jacuzzi. Per the three-year agreement, Jacuzzi will provide portable spas at USA Surfing training facilities and competition sites.
Hot tubs and sports go hand-in-hand: football teams use them in recovery regimens and divers use them to stay limber after dives, to name a couple examples. While post-workout recovery is certainly at play, the hot tubs will also be used pre-competition — hot water immersion can help surfers loosen up muscle tissue to attain maximum flexibility.
RELATED: Making the Perfect Wave
"Jacuzzi products help athletes recover faster after training, speed up the recovery process after injury and perform at peak levels when it matters most," says USA Surfing CEO Greg Cruse.
On a side note: It was rumored that the Olympic surfing event may take place in one of the artificial wave pools pioneered by surfing legend Kelly Slater. In actuality, the event is scheduled to take place in the ocean at Japan's Tsurigasaki Beach. Unpredictable water and weather poses quite a challenge to Olympians, making hydrotherapy even more of a necessity.