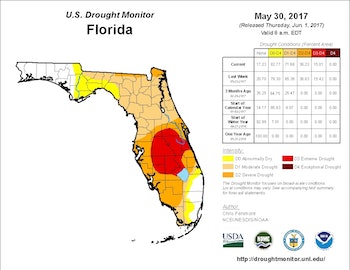 While California's historic five-year-long drought has finally lifted, there are now concerns Florida will be next. According to the United States Drought Monitor, 71 percent of the state currently at a moderate drought level or higher — with 15 percent experiencing extreme drought, the second-highest level.
Though worrisome to farmers and homeowners, Wendy Barsell, executive director of the Florida Swimming Pool Association, says pool pros don't have reason to worry yet.
"At this point, the water management districts have put some restrictions on watering but nothing about pools has been mentioned. We usually get summer rains, and they have picked up in the past week," she says.
According to information from the U.S. Drought Monitor released May 25, the Southwest Florida Water Management District increased water restrictions after an 11-inch rainfall deficit since October 2016, which marked the start of the dry season. Under these restrictions, homeowners are allowed to water their lawns only once per week.
Rains during the week ending May 28 alleviated some conditions in the Florida panhandle, but things remain dire in the south-central part of the state.
"FSPA will monitor all water restrictions and keep members informed should they affect the swimming pool industry and assist with questions and support," Barsell says.