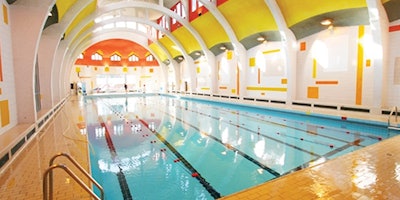 For years, the role of computers in recreational water has been growing. From smartphone apps that turn on spa heaters to CAD-based design programs and 3-D virtual renderings to online shopping for pool supplies, computers have become an omnipresent feature of the pool and spa business.
Until now, however, they had not been used to heat pools.
That is about to change. A pool at the Butte aux Cailles centre, a health and wellness facility located in one of Paris' historic neighborhoods, is planning to utilize heat generated by an adjacent, underground data center to raise and maintain pool water temperature.
The design and implementation of the system is being handled by Stimergy, a Grenoble-based start-up company that specializes in using data centers as a heat source for HVAC systems, and now a swimming pool. So far, the firm has used the concept to heat several blocks of social housing throughout France as well as a university gymnasium in Lyon.
The notion of using computers as a heat source stems from the surprising fact that globally, data-center servers consume a whopping 3-percent of manmade energy and in the process generate a tremendous amount of heat, all of which typically goes to waste.
Not only does harvesting that heat offer a source of free and otherwise castaway Btus, it also saves money on the server side of the equation. In fact, an estimated 40-percent of server operation costs come from running cooling systems, which are crucial to ensuring optimum server performance and longevity.
Although certainly a novel idea, it's not too far-fetched to imagine that if the Stimergy system does indeed result in a more affordably heated pool along with cooler, better operating servers, the idea could catch on.
So in addition to our traditional gas, electric, geo-thermal and solar pool heater technologies, we may soon add computer servers.