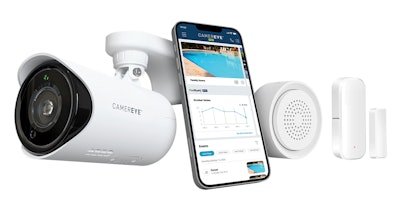 During the second week of November, pool and spa professionals will be bringing the heat to Las Vegas, Nev., for three days of classes and product displays. Beyond the glow of Vegas, a large portfolio of new and innovative products awaits. From the use of AI to protect your pool to new aromatherapy shocks, there will be an unlimited amount of show-stopping pool and spa products on the floor this year at the PSP Expo.
---
Jandy
Jandy introduces the innovative NEW Infinite WaterColors LED Lighting lineup. Jandy is giving pool owners a whole new way to customize their pools with an unlimited choice of colors when it comes to their pool lighting, the company says. The NEW Jandy Infinite WaterColors LED Lights offer all the colors of the rainbow and more. Unlike conventional color pool lights that only provide a handful of primary colors, the Infinite Lights provide a full selection of shades — whether it's red, coral, green or any color in-between — along with 10 traditional pre-set colors and five light shows. Plus, Jandy revolutionizes the way color lighting works. The innovative brand says it has eliminated color "cycling" and engineered their lights with the ability for instant color change — either through the iAquaLink app or by simply asking Alexa aloud.
jandy.com | (800) 822-7933
---
King Technology
The FROG @ease sanitizing system for swim spas is the first and only complete solution for swim spas, the company says. Key features include: it kills bacteria in two ways, shock only once a month, uses up to 75% less chlorine*, self-regulates — continuous 0.5 to 1.0 ppm chlorine level at all times, and creates fresh mineral water. Stop the struggle — get FROG @ease.
frogproducts.com | (800) 222-0169
*Compared to the minimum ANSI recommended chlorine level of 2.0 ppm for a swim spa
---
Unique Orders
Elevate your spa experience with Unique Order's Power Step spa stair. Its double-wide size fits 5-foot or larger spas perfectly. Durable materials make for an easy assembly. Its lightweight, yet holds up to 800 pounds and comes in six different colors, so that it can match any spa. The perfect upsell or add-on to any spa package. Made in the United States, in Southern California. Pallet and container sales are available.
powerstep.us | (949) 996-1640
---
Splash-A-Round Pools
Splash-a-Round Pools offers a wide selection of round and rectangle pool sizes all 52 inches deep. A heavy-duty, 2-inch galvanized framework makes assembly quick and easy with most popular sizes taking less than one hour. Our material is all reinforced fabric, designed similar to river rafting boat material, making it puncture and tear resistant for many years of fun and enjoyment.
splasharoundpools.com | (909) 980-7709
---
Spazazz
Spazazz is ecstatic to launch its first Spa Shock + Aromatherapy, available in three amazing fragrances, followed by your favorite Spazazz Spa Crystal or Elixir.
spazazz.com | (801) 785-4990
---
Cover Butler
The Cover Butler has a leading and an original spa and hot tub cover removal system that's been around for 28 years! The Cover Butler easily lifts and conveniently stores your spa cover behind the spa, while also creating less wear and tear on the cover. The Cover Butler spa cover removal system will add to the overall hot water experience by reducing the amount of strains of removing your hot tub and spa cover.
coverbutler.com | (800) 940-9457
---
inSPAration
Pool and Spa Refresh by inSPAration, Water Moisturizer and Freshener, is the perfect remedy to keep your skin feeling soft and moisturized while masking chlorine or chemical odors with a pleasant aroma. Add weekly or after each water treatment to be Refreshed all year long. The pH Neutral will not foam, cloud or bubble, nor will it change water chemistry or react with any other pool chemicals. Perfect for chlorine, bromine and salt sanitization systems and for areas where hard water is an issue, the company says.
insparation.com | (805) 553-0820
---
Waters Choice
Waters Choice swim spa start-up kit contains everything you need to start up and care for a swim spa for three months. Simply add one full bottle of NSF-Certified Pure Enzymes, balance pH and alkalinity, and add minimal sanitizer. That's it! No shock, clarifier or other harsh chemicals. This comprehensive, all-natural enzyme treatment for a swim spa is cost effective and simple to use.
waterschoice.com | (208) 949-2800
---
Anderson Manufacturing Company
Structurally reinforce concrete cracks quickly and inexpensively by installing Pool Grid Stitches to prevent further movement. This new and innovative crack repair solution is easier to install, less expensive and stronger than other options available on the market, the company says. The stitches feature high tensile strength carbon fiber and a unique woven design that installs quickly and will not corrode or discolor plaster over time. Install Pool Grid Stitches before plastering to add value to any concrete pool renovation.
leaktools.com | (800) 348-1316
---
Valterra Products
Blue Devil aboveground and/or inground pool pumps are designed with advanced technology for higher efficiency and minimal noise with 1-1/2 HP. Features include an easy, see-through strainer cover with a handle, allowing easy removal. The major shaft is constructed of grade 304 stainless steel. All components are molded of corrosion-proof reinforced thermoplastic for extra durability and long life. The mechanical pump seals are made of carborundum and graphite to lengthen pump life and lower noise level. It further includes a "skid pad" with mounting hardware, one filter-to-pump union with special PVC union connectors for easy installation, and a drain plug for effortless maintenance and draining during winter months.
valterra.com | (818) 898-1671
---
Kona Pools
The Hana Surround System by Kona Pools is easy to install, beautiful and made to last for decades. Kona Pools with the Hana Surround System will revolutionize the aboveground and/or onground pool category. Made from HDPE wood and polymer panels, the pool and surround offers an alternative to the "traditional" aboveground pool with a bigger swim area than a swim spa. The company says it's in a category by itself, and that there's nothing else like it.
konapools.net | (888) 419-19018
---
CamerEye
CamerEye's AI Smart Pool System is revolutionizing pool construction, inspection compliance, homeowner pool safety, maintenance and automation — making it easier, safer and smarter than ever before. The scalable system expands throughout the pool lifecycle to monitor, detect and notify for what matters the most. Dealer opportunities are available for builders, retailers and service providers.
camereye.ai | (800) 906-2810
---
Bullfrog Spas
Built on a legacy of innovation, quality and design, the all-new A Series by Bullfrog Spas now includes modern features and stylistic touches that take it to the next level and make it the perfect spa for today's customers, the company says. With nine spa models, available in three trim levels, the A Series offers a feature set and style for every budget, lifestyle and therapy need.
bullfrogspas.com | (801) 307-3676
---
CURRENT SYSTEMS
The Riverflow System delivers up to 2,900 GPM. Variable-speed. Application specific propulsion nozzles. VBG Sumps and Grates. Remote controls.
Peter Davidson and Phil de Tournillon of Current Systems will present a collection of geometries and CFD simulations to illustrate the behavior of current in lazy rivers and swim-in-place pools at this year's PSP Expo in Las Vegas in a seminar titled, "Designing for Current: Lazy Rivers and Swim-In-Place Pools." The objective of the presentation is to provide a basic understanding of the do's and don'ts for designing around current. The class will take place on Monday, Nov. 13 from 1:30 to 2:30 p.m.