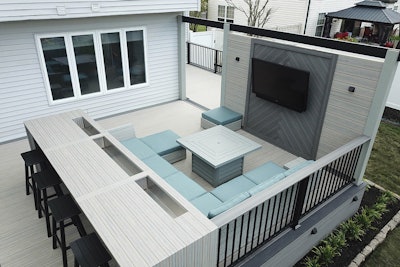 Photos courtesy Deckorators
Over the past few years, COVID and its ramifications have motivated consumers to invest significantly in upgrading their homes and backyards. While the pandemic-era travel and entertainment restrictions behind that motivation have begun to fade, consumer interest in curating "staycation" spaces outdoors has not — and demand is here to stay, says Jase DeBoer, senior marketing manager for outdoor living at Deckorators.
"We've seen people reinventing the way they think about their outdoor space," he says. "Geographically, there are some differences, but overall, the trend is to go further than simply putting a deck in your backyard. People are investing fully in the space, not as a check-the-box kind of thing, but to truly create something beautiful and usable for their family and friends."
Increasingly, the lines distinguishing outdoor design from indoor design have become blurred. "It's about complementing the transition from inside to outside. With that, you start seeing a lot of decisions based on interior design coming outside," DeBoer explains.
He's noticed that people are paying closer attention to indoor features like faucets, fixtures and cabinets: Often, what's happening indoors influences what homeowners want to see on their deck, whether it be finishes, railings or different textures and color ideas.
"In the early onset of [decking] composites, there was not a plethora of color choices or texture choices," says DeBoer. "The industry, at some point, was really only offering a gray and a brown — options that may not have completely fit the spectrum that you would see in a home." These days, there are selections to complement almost any indoor palette.
Some homeowners are taking this interior/exterior connection to the next level with the creation of what DeBoer calls "pseudo-rooms" on the deck — from lounge/living areas to outdoor kitchens and entertainment centers.
"It is truly becoming an extension of the home, and it's used in the same way. Builders are accenting and adding definition to create these sub-rooms within the deck, without necessarily building walls," he explains. "You see a lot of family room elements to the deck: maybe there's an inlay that will take the place of what a dining room rug might be. People are creating spaces: where the table goes, where the food prep can happen, maybe an area to watch the game with some unique built-in seating.
"This certainly started pre-pandemic, but it blew up during the pandemic…we had this kind of stay-at-home, pent-up demand of, 'Okay, I'm going to be here for a while, I'm going to fix this space that I'm in. I'm not just going to go for the rectangle, I'm going to go for the resort.'"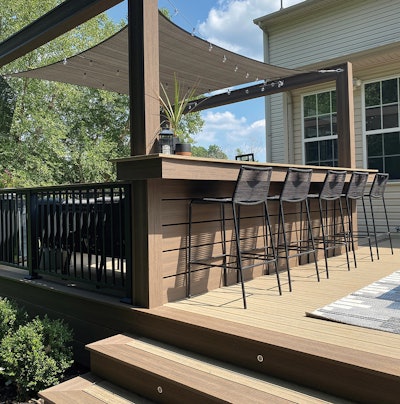 BEYOND WOOD
In general, as homeowners have become more serious about their backyards, their decisions have become less about the price tag and more about quality and durability.
"As far as the material goes, people seem more willing to look at the quality of the product and the features and actually invest smartly in something that's going to last a long time," says DeBoer.
Specifically, he's seen interest in upgrades for decking beyond the traditional wood or plastic composites. "Most homeowners, at one point, probably pre-pandemic, were looking at composite decking, and thinking about it as a kind of blur of a category. Now there's stratification…you have options in progressions, and you get different features along the way."
An evolution in the composite category has been mineralbased composites (MBCs). "This is a composite that does not contain wood at all," explains DeBoer. "It is actually a blend of polymers like polypropylene and minerals like calcium carbonate, which is essentially the mineral makeup of limestone."
The polymers and minerals are combined, and then pull extruded. The end result is a board that won't absorb water, and has textured embossing for enhanced traction, making MBCs a sensible upgrade for builders seeking to enhance the pool package.
The addition of a deck is an opportunity for pool pros to extend their existing partnership with their clients. Rather than outsourcing the project, builders can tap their skills to extend jobs, increase their margins and ultimately become more competitive.
It's an endeavor worth considering, especially as outdoor living space (and decking) have become more than just addons — they're assets. "If you look at real estate demand, a lot of realtors will tell you that it is actually a prominent part of buying a home now," says DeBoer. "I wouldn't say it's considered square footage, but it is still an added living space. A lot of homeowners look at it as building for themselves while also getting the value back in home value."
---
This article first appeared in the June 2022 issue of AQUA Magazine — the top resource for retailers, builders and service pros in the pool and spa industry. Subscriptions to the print magazine are free to all industry professionals. Click here to subscribe.