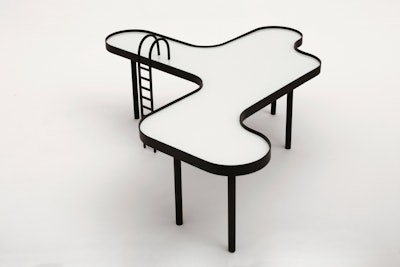 All photos courtesy Estúdio RAIN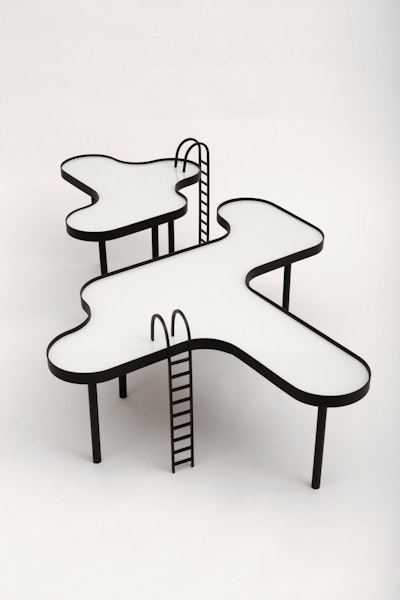 This luxury set of swimming-pool-inspired tables was designed to bring a hint of the backyard oasis into the living room.
The collection was created by RAIN, an independent studio in São Paulo known for developing furniture and lighting. Formed in 2015 by architect Ricardo Innecco and product designer Mariana Ramos, RAIN produces and commercializes its own pieces, working with Brazilian and international design stores and galleries.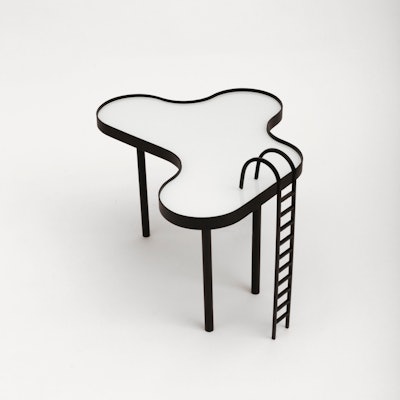 Innecco and Ramos were inspired by the "dreamlike images of leisure and good times that swimming pools are able to evoke." They aimed to create a piece that would "reach memories and arouse imagination."
Each table is crafted from powdercoated steel and a glass top. Three different height selections — small (60-by-60-by-40 centimeters), medium (60-by-100-by-35 centimeters) and large (100-by-100-by-30 centimeters) — can be used individually or grouped together. A moveable, miniature pool ladder encourages users to "create their own story."
"The tables propose a new environment for swimming pools: the interior space, inviting users to allocate and occupy them [with] their own imagination," RAIN told Dezeen. "We believe some people will use them in a traditional way, locating it beside a sofa with a lamp on it or in a living room…[while] some people will actually see it as a swimming pool and create a scene full of imagination."
---
This article first appeared in the June 2022 issue of AQUA Magazine — the top resource for retailers, builders and service pros in the pool and spa industry. Subscriptions to the print magazine are free to all industry professionals. Click here to subscribe.