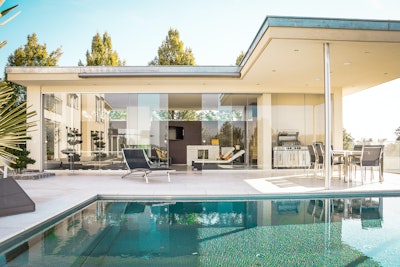 Customers are looking to build a backyard space where they can be physically active, hang out with their loved ones, throw amazing parties, or simply relax after a long day at work. Ideally, they'd like this outdoor space to connect with their indoor space as well. That transitional space, which opens the interior to the exterior, can be the fulcrum that leverages the entire living space of the home to stunning heights.
The methods can be as simple as French doors that look nice and natural and can be left open to keep that inside/outside direct connection. If the home is in a hot climate or an area that has tons of sunny days a year, doors can be left open all day long, filling the interior space with natural sunlight and fresh air, and providing instant access to the pool.
Another simple, inexpensive way to make this idea work in real life is to focus on the decor. When decorating a home, most people focus on their interior space first and decorate it without thinking about their exterior, and then simply spend the rest of their budget on their pool area. But this creates a disbalance and does nothing to bring the two living spaces together.
Instead, designers should consider urging homeowners to turn the paradigm on its head — design the pool and outdoor space first, and then use that outdoor aquatic theme and feel in the indoor space. This actually helps create a more coherent and well-rounded look that is particularly appalling for all those true water-lovers out there.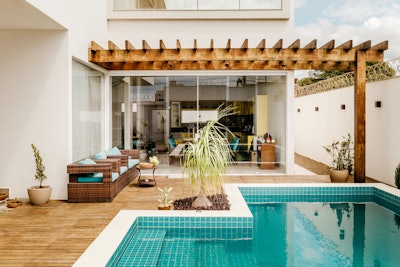 But keep the overall design coherent. There are lots of ways to achieve this, and the best thing about this entire process is that you can pick whichever theme you want — as long as you're consistent and determined. From using the same or similar decor pieces in your indoor and outdoor space to opting for the same colors, materials and furniture, all of these are great for connecting your interior living space and your pool.
Flooring and furniture choices can help create a more coherent space, or you can choose the same stunning rugs that will bring everything together and add a new dose of elegance to your indoor and outdoor space.
Also, one important facet of the inside-outside connection is organization. Both of these areas need a single coherent organizational structure to maintain that strong link and make the transition easy and natural. Think about storage solutions that allow for this.
Connecting the home's interior and exterior might not seem like the easiest thing in the world, but it's not as hard as it sounds. Start with a few principles of coherent structure and build from there. Soon you've given your customers that marvelous indoor/outdoor transitional space that truly offers the best of both zones — the comfort and shelter of the interior, and the unique natural feel of fresh air in the out-of-doors.