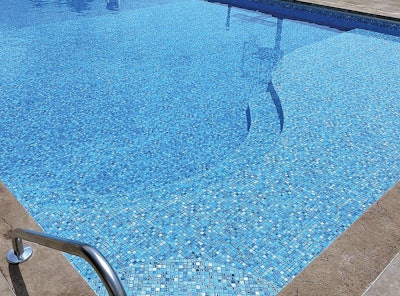 Vinyl-liner pools are smooth to the touch and come in many different shapes, sizes and patterns. After a quick installation, homeowners fall in love with their new pool's dazzling design. Listed here are some of the latest vinyl liners from top manufacturers in the industry.
---
Tara Pool & Outdoor Products
Tara Pool & Outdoor Product's Sundara is a refreshingly modern pattern that has its roots in traditional pool style. The glazed ceramic tile border is made up of cool blue tiles that sit just below the waterline. This elegant composition matches well with rustic and modern homes. Sundara is a 20 mil pattern that will be available in the new Paddling Paws option. Paddling Paws is an upgrade for the walls and step material. It features a unique scratch hiding topcoat specially formulated to prevent scratch marks. Made from premium 30 mil vinyl, Paddling Paws adds extra thickness to the walls and entryways of the pool.
tarapools.com | (866) 725-8272
---
Pegasus - Cover Co
Water Crystals is a new pattern for 2023 for inground vinyl liners. Available in 27 mil, the 3D effect of this pattern "pops" off the wall. Check out the company's website to see other available patterns. You can also see photos of finished pools with various pattern choices.
pegasus-products.com | (908) 707-1122
---
McEwen Industries
Kuri Bay Pearl is one of McEwen's newest patterns, part of the Pearl Reflections Collection. Pearl Reflections patterns are made with reflective, iridescent ink. Kuri Bay Pearl is printed on brilliant blue vinyl and features silver highlights, which gives it an overall luminescent quality. This product is featured in fully 27 mil.
mcewenindustries.com | (704) 365-8070
---
LOOP-LOC
All of Loop-Loc's 42 designer patterns are manufactured with the Clear-Loc Invisible Floor Seam Technology, providing smoother, less noticeable seams. Loop-Loc has added two new exclusive patterns to its line of Luxury Liners, including SeaDreams, the latest additions to the company's PearlEssence line. Infused with iridescent inks that shimmer and sparkle, PearlEssence liners transform any pool into a glittering oasis. Bronzed Cocoa, Rutland Waters and Widemere Lake are new additions to their exclusive collection and showcase the beauty and design décor of all backyards. They continue to carry the very extensive lines of PearlEssence, Boutique, Embossed and Cherished favorites.
State-of-the-art computer technology and manufacturing equipment ensure a perfect fit in any pool.
looploc.com | (800) 562-5667
---
Garrett Liners
Inspired by the look of rich Italian marble, Garrett Liners is pleased to add "Opal" to their All Over Print Collection. Available in 28 mil, the soft grays and blues of this pattern are printed on white vinyl that is manufactured in the United States. The entire vinyl collection being offered by Garrett in 2023 can be found on their website.
garrettliners.com | (800) 222-3650
---
Merlin Industries
With over 40 patterns available, along with additional solid options, Merlin has a vinyl liner to enhance new pool projects or bring lift back into existing poolscapes, the company says. Upgraded patterns include AquaMax, a pool-owner-friendly vinyl with high UV resistance, and Aqua Intense, both patterns featuring one or a combination of textured vinyl and luster inks. Merlin also introduced ReNew, the first and only sustainability certified pool material.
merlinindustries.com | (800) 289-1836
---
GLI Pool Products
GLI Pool Products introduces a variety of new vinyl liners for 2023, including Tulum. This pattern takes inspiration from mosaic tiles and showcases shades of blue and aqua, giving pools a lush and elegant appearance that will help transform any pool into a paradise. Tulum is available in both 20 and 27 mil.
glipoolproducts.com | (800) 448-2343
---
Z Poolform
The Z Poolform Liner Track is used to mount the Z Poolform System on a vinyl-liner pool as well as hold your pool liner. It is compatible with most standard bead liners. Because it is made from high-quality synthetic polymer, it is safe for use with saltwater systems and bonding is not necessary. It comes in both straight and flexible variants that will bend down to a 6-inch radius so no special corner pieces are needed.
concretecountertopsolutions.com | (570) 587-3799
---
Frank Wall Enterprises
AquaForms aluminum pool concrete forming system builds concrete wall, vinyl-liner pools with steps, benches, spas, sun ledges and even automatic cover boxes during the wall pour. This modular system can create unlimited pool designs and shapes. By owning their own forms, builders can take control of their building schedule. AquaForms last well over 3,500 pours, according to the company. All concrete pools and spas are also possible, eliminating shotcrete equipment and highly skilled labor.
frankwall.com/aquaforms | (800) 488-9146
---
Poolside by CGT
Poolside by CGT is delighted to now offer its new Carrara Marble vinyl-liner pool pattern for 2023. The new pattern imitates the beautiful appearance of natural marble. Printed on a white liner material and enhanced with the company's exclusive aquafinish protective topcoat that provides superior chemical resistance and an industry-leading UV protection, the company says. The simplicity and beauty of this natural stone marble inspires calmness and relaxation, and complements today's popular deck and coping treatments.
poolsidebycgt.com