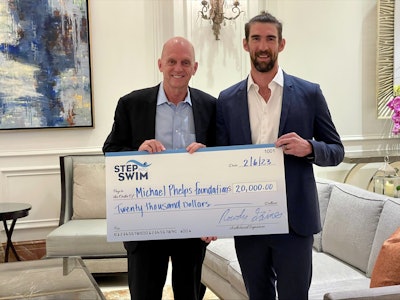 Photo courtesy PHTA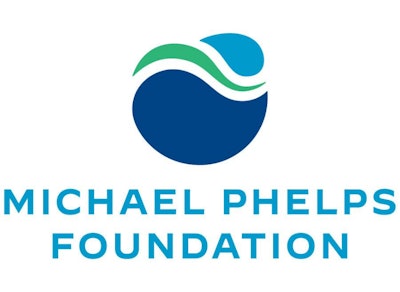 Step Into Swim, an initiative of the Pool & Hot Tub Alliance (PHTA) dedicated to creating more swimmers through safe swim education, announced it has awarded $20,000 through its 2023 grant program to the Michael Phelps Foundation. In its efforts to build confidence in young swimmers and decrease the nation's already-high drowning rate, Step Into Swim continues to advocate for increased access to water safety education and encourages lesson providers to apply for funding.
"Learning to swim empowers children to be water safety champions and helps prevent drowning," says Rowdy Gaines, three-time Olympic Gold Medalist and vice president of Partnerships and Development for PHTA, who leads the Step Into Swim initiative. "Step Into Swim takes swim safety seriously, and we applaud the Michael Phelps Foundation among all the learn-to-swim lesson providers for doing the same. They put children first and teach them the skills they need to not only survive, but thrive in the water."
With Step Into Swim latest grant, the Michael Phelps Foundation will offer swim safety lessons to more than 400 children in underserved communities and instill the lifesaving skill of learning to swim. In fact, learning to swim from a qualified instructor reduces the drowning rate by 88% among children ages one through four, the very same age group impacted most by drowning deaths.
"I was first introduced to the water through a water-safety program, and I am committed to helping expand access to that same learn-to-swim program through our IM program," says Michael Phelps, Founder of the Michael Phelps Foundation. "We are proud to partner with Rowdy Gaines and the PHTA's Step Into Swim initiative to help teach more children to feel comfortable and confident in and around the water. Together, we can help inspire and educate the next generation about the valuable life skill of learning to swim."
In addition to the life-saving skill of learning to swim, the Michael Phelps Foundation's IM program provides a comprehensive curriculum that includes goal setting and healthy living (emotional and physical) lessons for children.
In 2022, Step Into Swim raised over $750,000 dollars, which provided grants to more than 60 facilities in 46 states and funded swim lessons for 23,500 children. The initiative has gifted more than 300,000 swim lessons since 2012 through YMCAs, Jewish Community Centers, Boys and Girls Clubs and many more. Step Into Swim accepts grant applications on a rolling basis. Interested learn-to-swim providers can learn more and apply at www.stepintoswim.org/get-involved/apply/.