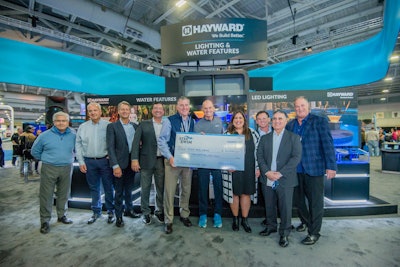 Stephanie Knight
The Pool & Hot Tub Alliance's Step Into Swim initiative announced its ongoing partnership with Hayward Holdings, Inc. (NYSE: HAYW) ("Hayward"), a global designer, manufacturer, and marketer of a broad portfolio of pool and outdoor living technology.
Dedicated to creating more swimmers through safe swim education, Hayward's platinum-level sponsorship will support the community and help Step Into Swim invest in the next generation of swimmers through learn-to-swim programming. The announcement and photo opportunity took place today during the Northeast Spa and Pool Association's (NESPA) Pool and Spa Show in Atlantic City, N.J.
"I am grateful to Hayward for their continued support of and generosity to Step Into Swim," says Rowdy Gaines, three-time Olympic Gold Medalist and vice president of partnerships and development for PHTA who leads the Step Into Swim initiative. "They are tremendous partners, helping us achieve our mission of creating more swimmers and meeting our goal of raising $750,000 for providing learn-to-swim grants across the country."
Hayward's donation will help provide learn-to-swim programming for 1,000 children, furthering the company's purpose-driven approach to community commitment and its on-the-ground support of programs that prioritize water safety education.
"At Hayward, our vision — to inspire happiness and well-being through safe, smart and sustainable solutions — drives everything we do, including our impact on the world. We are proud to continue to support Step Into Swim and help inspire the next generation of swimmers," says Kevin Holleran, CEO of Hayward.
For those ages, one to four, learning to swim from a qualified instructor drastically reduces the risk of drowning by 88 percent[1] and is critical in keeping children safer in the water. Hayward shares in Step Into Swim's mission to combat drowning with access to free swimming lessons and educational resources that empower our children to be confident in and around water.
Step Into Swim and its partners, like Hayward, believe that advocating for safe swim practices and teaching the lifesaving skill of learning to swim is essential to improving the health and safety of our youngest swimmers and their families. The initiative has gifted more than 300,000 swim lessons since 2012 through YMCAs, Jewish Community Centers, Boys and Girls Clubs, and many more. The program is funded through contributions and 100% of donations go to Step Into Swim initiatives and learn-to-swim programming. To learn more, visit www.StepIntoSwim.org.