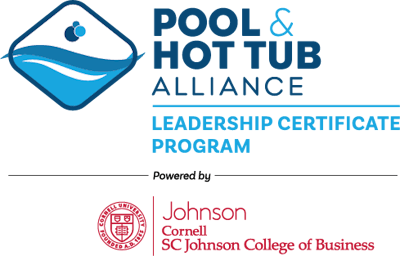 The Pool & Hot Tub Alliance has teamed up with Cornell University to deliver a private, leadership-learning experience. Through a series of four on-demand courses and two live-virtual events with colleagues and a Cornell professor, attendees can learn the necessary leadership and management skills needed to elevate their career. "With the tumultuous times we are facing, brushing up and constantly honing these skills is necessary to stay ahead, motivate your team, and continue to drive your company to success," says PHTA.

Each student will walk away with an elite Cornell University certificate, co-branded with PHTA, to help them and their business stand out from the competition, as well as "the soft skills and knowledge to continue to lead and grow," says PHTA. Each track is personally developed by Cornell faculty experts to help attendees gain today's most in-demand skills. Browse the different tracks below:
"Today's organizational leaders are one part manager, one part HR professional. This certificate program will teach you how to elevate into a true leader instead of simply a manager. Find out what your leadership style is and how to develop the interpersonal skills needed to take charge. Knowing that will allow you to not only create a high-performing team but manage it to its fullest potential as well. Learn how to manage your time, make clear, decisive decisions for the betterment of your organization, and how to communicate those decisions to upper management."
"An executive leader's credibility, authority, and ability to keep a team focused and motivated are under constant scrutiny. And rightfully so — it's the leader's job to communicate strategy, negotiate skillfully, influence team behaviors, and deliver results.
In an executive role, it's crucial that you have the right blend of soft skills and a strategic mindset to achieve specific performance outcomes at your organization.
The Executive Leadership Certificate series provides you with the critical skills to lead your organization to success through a series of six core courses that help you reach your goals."