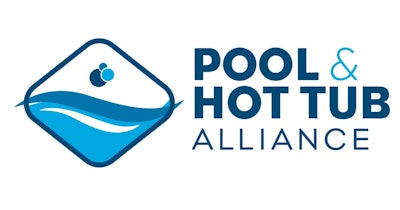 We continue our coverage of the 2022 PHTA Awards with the Retailer of the Year and Young Professional of the Year:


Retailer of the Year
The Retailer of the Year Award, sponsored by LOU, is a peer-nominated award recognizing a retailer who has advanced the retail profession through outstanding achievements and dedication to the industry. This year's recipient is Dustin Lockwood of Bontrager Pools.
"I have never received an award like this before," Lockwood says. "I feel honored to get it knowing there are a lot of other deserving people, and I'm very thankful."
Lockwood has been in the pool and spa industry for nearly 36 years. He's known for going the extra mile to ensure customers are happy, and he regularly attends industry events, both to learn from other experts and to share his own real-world knowledge gained over his many years of experience.
One of Lockwood's best qualities is his ability to build strong and lasting relationships with his customers, employees, and peers, making him a valued leader and friend. In fact, he says, it's one of the best parts about the day-to-day job: "I like that it brings joy to our customers, and it's a fun industry to be involved in. I have developed many lasting friendships through the years that have helped us grow…You can learn a lot if you get involved and network with the many great individuals in our industry."


Young Professional of the Year
This award, also peer-nominated, recognizes a forward-thinking leader under the age of 40 who will be the voice of the next generation of pool and spa professionals. The 2022 award was granted to Caley Gibbs of Gib-San Pool and Landscape Creations, who served as co-chair of the PHTA WAVE Young Professionals Network from 2019 to 2021.
"I like to view this award as a company and team achievement. I wouldn't be in this position without the team I work with every day," she says. "It is an honor to represent my team and Gib-San Pools with this recognition."
"Professionally, I am excited to represent the women in the pool and spa industry," she continues. "Over the last several years, I have had the privilege of meeting and working with many women of our industry, and it is exciting to see more and more women in the room."
Gibbs' knowledge spans all segments of the industry, from construction and design to retail and sales. In fact, she recently earned her Certified Master Pool Builder & Design Professional certification, the highest pool builder certification offered by PHTA. "Seeing a project develop from a dream into a reality is so rewarding. Working with a client from concept to construction to witnessing them enjoy their first swim brings me so much pride," she says. "With each and every client, I feel so excited to be able to participate in helping them bring this positive, life-changing investment into their lives."
As for her favorite part of the day-to-day job? "The opportunity to work with my dad and brother every day," she says. "They both make me proud, and I know I can always count on them personally and in the workplace. Not many people have the chance to spend this much time with family, and I feel incredibly blessed."
Stay tuned for coverage of additional PHTA award winners.