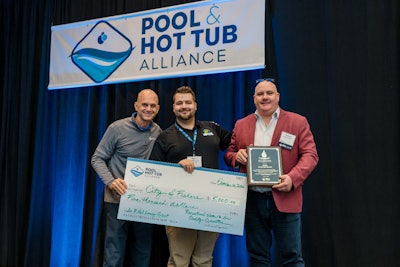 PHTA
The Pool & Hot Tub Alliance has awarded the 2022 Dr. R. Neil Lowry Grant to Fishers Health Department in Fishers, Ind. The winner was announced during the World Aquatic Health Conference (WAHC) Awards Ceremony on October 12, 2022 in Houston, Texas.
Given in the memory of Dr. Robert Neil Lowry, a long-time member of PHTA and the Recreational Water Quality Committee, this $5,000 grant honors a public health official or department who has made outstanding contributions to advance the public's health and safe use of recreational water in pools, spas, and waterparks through educational, safety, operational and technical programs.
The award was accepted by Spencer Martin, environmental health inspector for Fishers Health Department. Michael Lowry, son of Dr. R. Neil Lowry, presented the award along with Olympic Gold Medalist Rowdy Gaines, PHTA vice president of partnerships and development.
Fishers Health Department was created just two years ago, and its Environmental Health Program is responsible for overseeing public and semi-public pool permitting, inspectors and aid for operators and citizens. The City of Fishers Pool Ordinance has higher requirements than the State of Indiana, and Fishers Health Department is striving to meet those requirements to ensure the health and safety of its recreational pool patrons.
With the Dr. R. Neil Lowry Grant, Fishers Health Department plans to certify a Certified Pool & Spa Operator (CPO) Instructor on their staff so the CPO certification course can then be offered locally at a more affordable price. The grant will also be used to purchase training materials for the CPO course as well as chemicals and equipment for pool inspectors.
"What stood out to us about Fishers Health Department was their desire to educate the pool operators in their county and their commitment to public health," says Terry Snow, owner of TLS Pool Service in Upland, Calif., and PHTA Recreational Water and Air Quality Committee (RWAQC) Awards subcommittee chair. "Spencer Martin in particular has such a willingness to teach others and make the pools in his community safer. We are proud to provide this grant to such a deserving community."
Past winners of the Dr. R. Neil Lowry Grant include: City of North Richland Hills, 2021; Pueblo Department of Public Health and Environment, 2019; Arizona Department of Health Services, 2018; Quechan Parks & Recreation, 2017; Riverside County California Department of Health, 2016; Columbus Public Health, 2015; Middlesex-London Health Unit of London, Ontario, 2014; Brevard County Environmental Health Services Department, 2013; Sacramento County Environmental Management Department, 2012; Alexandria Health Department, 2011; City of Houston, 2010; and City of Plano, 2009.
For more information about the Dr. R. Neil Lowry Grant, visit https://phta.org/lowry-grant/.