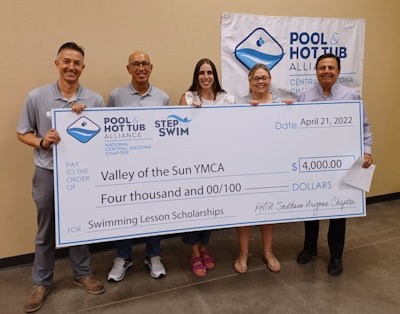 The Pool & Hot Tub Alliance Central Arizona Chapter recently presented the Valley of the Sun YMCA with a check for $4,000 for swimming lesson scholarships.
Step Into Swim, an initiative of the Pool & Hot Tub Alliance and its foundation committed to safe swim education and drowning prevention, matched the chapter's donation of $2,000 for a combined donation of $4,000.
This donation will provide 33 children with eight group swimming lessons or 66 children with four group lessons. The check was presented to the YMCA at PHTA Central Arizona Chapter's Annual Meeting in Mesa on Thursday, April 21, 2022.
According to the CDC, formal swimming lessons reduce the risk of drowning among children by 88%.
"This is just one thing that PHTA does to raise awareness and increase the safety of our children," says Don McChesney, president, PHTA Central Arizona Chapter. "We are willing and more than happy to help support the funding of the YMCA's swimming lessons for families who could not otherwise afford them. As an industry, swimming is an activity that we hope people will enjoy their whole lives."