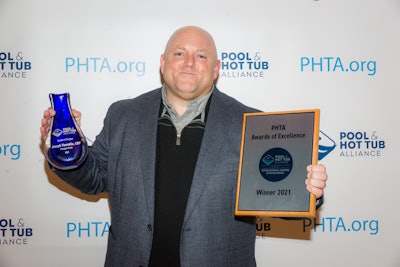 The Pool & Hot Tub Alliance (PHTA) has awarded Joseph Vassallo Jr. of Paragon Pools (Las Vegas, Nev.) with its prestigious "Builder of the Year" award.
The Builder of the Year award is a peer-nominated award and honors an outstanding pool builder who has advanced the pool building profession through outstanding achievements and dedication to the industry.
"Joseph Vassallo Jr. has influenced the advancement of the industry through his commitment to providing pools and spas that exceed the industry and state standards, earning him and the company a multitude of industry and professional awards," says PHTA in a statement.
"These awards and recognitions credit his extensive knowledge of the design and building of superior pools/spas as well as acknowledges his integrity as a professional businessman. Beyond that, he has been involved both personally and through his company, Paragon Pools, in a variety of charity programs and activism over the years.
"He has provided finances, resources, given his time and recruited others to support worthy causes in the community. His involvement shows the residents, fellow businesses and media how devoted he (and the company) is to the building a sustainable community — bringing positive awareness of the pool industry professionals."