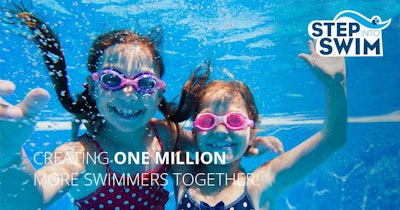 Pool & Hot Tub Alliance (PHTA) and its foundation announced the expansion of Step Into Swim, an initiative committed to safe swim education, during the International Pool, Spa and Patio Expo in Dallas, Texas on November 15, 2021. PHTA is asking its members and other industry professionals to mobilize in reaching a $500,000 fundraising goal in support of the program. Funds will enable PHTA to share its water safety messaging and resources with families across the U.S., provide professional swim instruction to those who would not otherwise have access and tap into its robust network to support safety in the industry.
Three-time Olympic Gold Medalist Rowdy Gaines is leading the Step Into Swim initiative on behalf of PHTA. "The gift of swim lessons can make a difference in the life of a child and their family," says Gaines, vice president of partnerships and development for PHTA. "We can all do our part as swimming ambassadors to make a real impact through Step Into Swim and provide children with the education they need to be safe in the water."
Drowning is the leading cause of death among children ages one to four, and second leading cause of unintentional injury death after motor vehicle crashes in children ages one to 14 in the U.S.1 Learning to swim from a qualified instructor drastically reduces the risk of drowning by 88%2 and is critical in keeping children safer in the water. By investing in the next generation of swimmers through learn-to-swim programming, Step Into Swim aims to instill confidence, empower long-term participation in water activities, tout the positive benefits of water play and advocate for safe practices.
Step Into Swim has gifted more than 285,000 swim lessons since 2012. The updated initiative expands beyond swim instruction, adding consumer awareness initiatives and educational programming. This will include an enhanced website with added resources and content, presence on Facebook and Twitter to target a consumer audience and join existing conversations about water safety, digital advertising, as well as an extensive media relations campaign to tell impactful stories. PHTA will work closely with its members and the Step Into Swim Champions Board to elevate consumer awareness around the importance of pool and swim safety in an effort to decrease drowning and increase swimmer confidence.
"We know our members are looking for opportunities to give back and get involved in a more meaningful way," says Sabeena Hickman, CAE, president and CEO of PHTA. "In addition to sharing program highlights and working alongside our members to reach our $500,000 fundraising goal, PHTA will share a member toolkit with customizable materials to promote safe swim practices. This will allow members to connect with customers directly, champion safety in their market, and celebrate their support of Step Into Swim."
The revamped Step Into Swim program was announced at the start of the International Pool, Spa and Patio Expo, where industry advocates and PHTA members can speak with Rowdy Gaines at Booth #1545 and learn about fundraising opportunities to support the important cause. Step Into Swim is fully funded through donor contributions and 100% of donations go directly to educational initiatives and learn-to-swim programming. In collaboration with supporters and partners, including International Swimming Hall of Fame and Every Child A Swimmer, Step Into Swim will continue to create more swimmers.
To learn more about Step Into Swim and how to get involved, visit http://www.stepintoswim.org/donate or contact Rowdy Gaines at rgaines@phta.org.