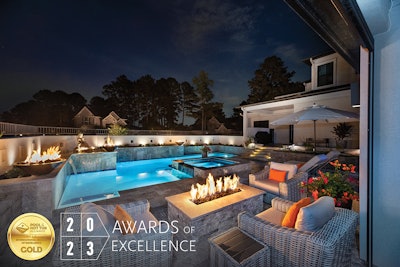 What is a pool but a mere vessel for water? Oh, but it's so much more than that. It's the focal point of a canvas on which a painter or a designer can paint a picture of great beauty, using strokes rough and smooth, vertical plantings and horizontal hardscapes.
That's what the annual Awards of Excellence is all about — not prosaic water vessels, common as rain, but the swimming pools that serve as the functional center of the backyard, providing the sun around which orbit custom spas, water features, rich wood and tile decks, landscapes and lights, outdoor kitchens and cabanas. That's what lies before you, as we announce the award-winning projects all month long.
Each year, for your visual enjoyment, we celebrate a new chapter in this unfolding artistic development. Look for new ideas of arrangement and bold style statements that can be echoed in your own work. Or just enjoy the lovely pools.
Congratulations to this year's Gold-winning projects. And stay tuned for Silver next week!

CUSTOM POOL SYSTEMS
Coral Gables, Fla.
Decking Material: Stone
Tarpon Isle Mansion is set to become the most expensive home ever sold in the state of Florida, mainly due to it being located on the only private island in Palm Beach; however, the backyard swimming pool also has something to do with its luxurious price. The pool consists of three bodies of water: a main swimming pool, a hot spa and a cold plunge, all of which are perfectly level. The hot spa and cold plunge have the same interior layouts for ease of access and symmetry.
The entire vessel is so large that it had to be supported by 92 individual helical piles. Mosaicist Inc. designed, manufactured and installed custom "lighter palm beach blue" color tone tile with a perimeter border floor inlay to match the decking inlay. This pool is equipped with three of the highest efficiency gas heaters. This property's elegance is not in any one element, but rather, in its entirety, which includes the swimming pool.
Key team members: Todd Michael Glaser, Developer; Dailey Janssen Architects, Architect; Custom Pool Systems, Contractor; Smart Aquatics, Designer; Mosaicist Inc., Tile Supplier
---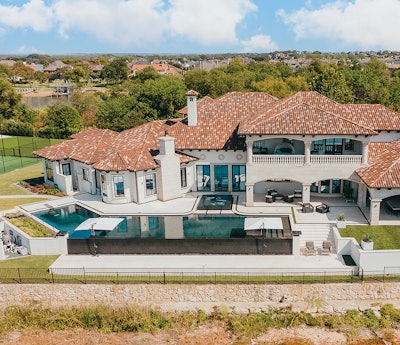 CLAFFEY POOLS
Southlake, Texas
Decking Material: Shell Beach Pavers
Pool Interior Finish: Pebble Tec
This bold backyard design creates a large exercise and entertainment space with plenty of shade from the Texas sun. The infinity-edge pool measures over 70 feet long, and provides alluring views of the lake hidden in the foreground beyond the range of the photo. The customer wanted volleyball and basketball capabilities as well as diving, so designer Erin Kidd drew up the pool to accommodate these sports, and made the oversized hot tub the focal point as you emerge from the house, all in accordance with the customer's wishes. The project was completed in April of 2022.
---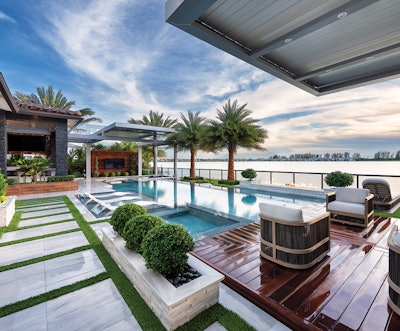 IKE'S CARTER POOLS
Oakland Park, Fla.
Decking Material: Aspen White Marble
Pool Interior Finish: Plaster
Incorporated in 1949 as Carter Construction, Ike's Carter Pools is one of the few builders with more than 70 years in the business, and that experience shows in this subtle yet artistically powerful design/build project. Designer Erik "Ike" Eikevik drew up this lovely seaside entertainment and relaxation mecca which features complementary vertical and horizontal pieces interlocking to present an integrated whole. The backyard setting is framed with an attractive decking pattern, achieved with grass and imbedded 16-by-24-inch Aspen White Marble tiles, surrounding the centerpiece 52-foot vanishing-edge pool which varies from 3 to 5 feet in depth.
---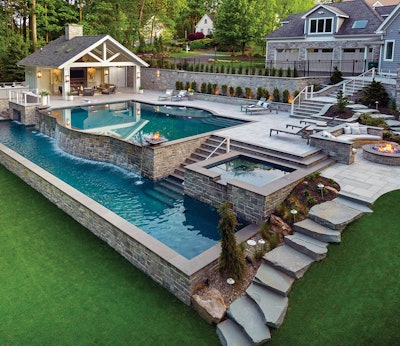 AQUAVISIONS
Mechanicsburg, Pa.
Decking Material: Porcelain Tile
Pool Interior Finish: Wet Edge
The scale of this vanishing-edge project is breathtaking, as it includes a 75-foot lap lane catch-basin for the vanishing-edge overflow. And that's just for starters. The main attraction is the 24 1/2-by-40-foot main pool flanked by fire and surrounded by a spillover spa, intimate grotto, full-featured fire pit, covered outdoor seating and much more. And check out those slab stairs descending to the grounds below — gorgeous! Designer Chadd Jovanelly has created a true masterpiece of backyard aquatic art, framed in porcelain tile. The project was finished in July of last year.
---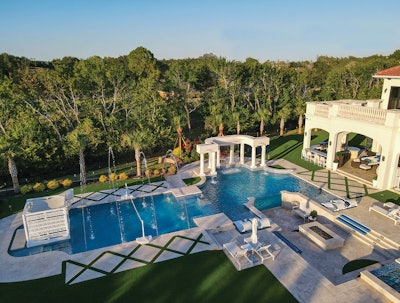 TEXAS POOLS
The Woodlands, Texas
Decking Material: Travertine
Pool Interior Finish: Pebble Tec
For this Gold-winning, traditional swimming pool, the homeowner asked that designer Paul Oman incorporate a number of Greco- Roman elements. For example, eight columns stand tall alongside one side of the pool, which are topped with three fire elements. In addition, panning down into the pool, a custom glass tile mosaic is visible both from above as well as through a large, acrylic window installed in the sunken sitting area, which is located between two tanning ledges and bridges the gap between the pool and spa.
The design also boasts many opportunities to entertain, including an outdoor kitchen and patio, and for sports lovers, an in- pool basketball hoop and volleyball net, as well as an inground trampoline. At night, waterfalls and laminars are lit to provide a spectacular nightscape in conjunction with the homeowner's landscape lighting. A long fire table, set inside the sunken sitting area, also helps to illuminate the space at night.
---
BACKYARD PARADISE LUXURY POOLS
Montgomery, Texas
Decking Material: Marine Fantasy - Travertine Versailles Pattern
Pool Interior Finish: Pebble Tec
This stunning swimming pool, designed by Mitchell Buckly, is the perfect complement to the accompanying home's modern architecture. Highlighted by a porcelain inlay around the perimeter of the coping, this pool features a large tanning shelf and gorgeous spa, which is set inside the pool to create a clean reflection look. The Ocean Blue Pebble Tec plaster also helps to showcase a beautiful, mirrored effect. Two columns with matching geometric fire features act as a backdrop to light up the pool at night, and help to entertain family and friends alike, either at the table and seating area in the pool or around it on an abundance of travertine decking.
---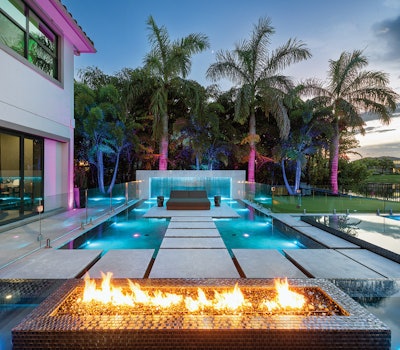 Ike's Carter Pools
Oakland Park, Fla.
Decking Material: Sandblasted Gray Marble
Pool Interior Finish: Plaster
The new owners of this gem from Ike's Carter Pools in Oakland Park, Fla., have a strong affinity for right angles, and this pool delivers them with cool mathematical precision. The contemporary look, the work of Erik "Ike" Eikevik, extends from the main pool (measuring 46-feet-by-24-feet) to the fire feature and spa, all encased in stunning sandblasted gray marble decking. The lighting design is world class, with just the right level of carefully chosen illumination to present this piece of aquatic art, beautifully photographed by Jimi Smith.
---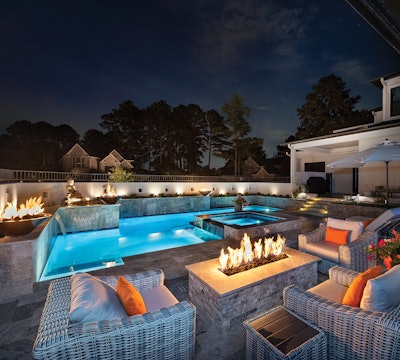 BACKYARD PARADISE LUXURY POOLS
Montgomery, Texas
Decking Material: Silver Travertine - Versailles Pattern Pavers
Pool Interior Finish: Pebble Tec
This well-executed project, designed by Scott Barber, boasts a luxurious, geometric swimming pool complete with a raised spa and four bar stools. Three fire bowls — along with ample seating around a fire pit table and intentional landscape and pool lighting— help to make the backyard a stunning nighttime oasis. Lush landscaping provides a finishing touch, giving homeowners the ultimate in-home getaway experience, right inside their secluded courtyard.
---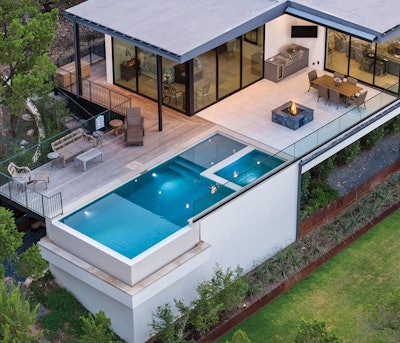 CASCADE CUSTOM POOLS
Austin, Texas
Decking Material: Wood and Buff Lueder Tile
Pool Interior Finish: Pebble Tec
This unique vanishing-edge pool project provides intriguing vantage points to the property due to its position on the second story of the home, an arrangement which also helps integrate the poolscape into the overall structure. The Pebble Tec- finished pool itself measures 30 feet long by 13 feet wide, and varies in depth from 3 1/2 to 6 feet. The deck is a combination of wood on one side, and buff lueder tile on the other side, offering two distinct living spaces as shown in the photo by JP Morales, JPM Real Estate photography.
---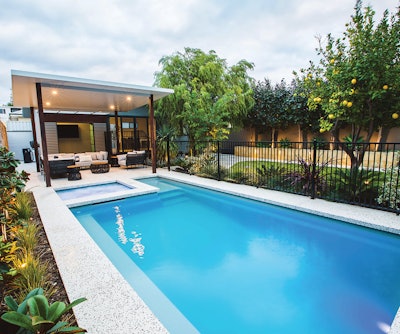 AQUA TECHNICS POOLS
Perth, Western Australia
Decking Material: Honed Aggregate
This homeowner was adamant with Aqua Technics Pools about having a pool and spa combination from the very beginning. This was because the idea of having a hot soak during a chilly winter night was so appealing. A hand dig was required of this project due to limited backyard access. The pool was a part of an extensive backyard renovation, which transformed what was once a plain, unattractive grass area into a stunning outdoor entertaining space. A mix of materials were used to create the contemporary, industrial aesthetic of the home's architecture. Elements, such as the stone clad feature walls, honed aggregate surrounds and black aluminum fencing all work together to create the desired, modern look.
---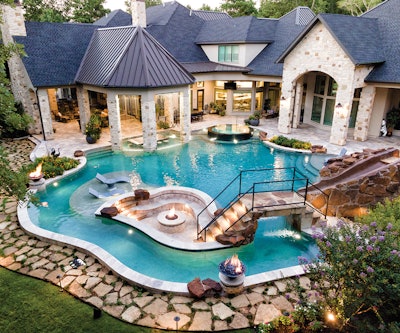 BACKYARD PARADISE LUXURY POOLS
Montgomery, Texas
Decking Material: Platinum Grey - Versailles Pattern Travertine Pavers
Pool Interior Finish: Pebble Tec
Designer Scott Barber outdid himself on this massive backyard project. The daring freeform swimming pool features a sunken fire pit that can be entered from a number of different directions: from a stone bridge over the lazy river or from a tanning shelf (one of the total) attached to it.
Designed to give a feeling of luxury and comfort, a large seating area was included, surrounded by picturesque rain curtains, to help the homeowner both entertain and relax. While the children enjoy the massive slide and jumping rock, parents can also unwind in the 360-degree spa. The breathtaking oasis also features an extensive patio, so those looking to stay dry can also join in on the fun.
---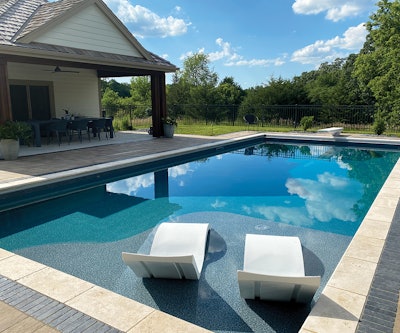 SWIMMING POOL SERVICES
Waukesha, Wis.
Decking Material: Unilock Bristol Valley With Copthorne Border
The goal in this project design was to create a private paradise that fit seamlessly with the natural prairie surroundings of the property, while simultaneously appearing modern, something Cori Thiede, the designer, accomplished quite well. The homeowners have multiple children who love the escape and excitement of a backyard swimming pool. Swimming Pool Services further helped build this backyard oasis so that it was both enjoyable and safe. The brick on the house was nicely complimented by using a warm-toned patio color. The rustic modern style was further incorporated through the darker patio accents and the green landscaping.
---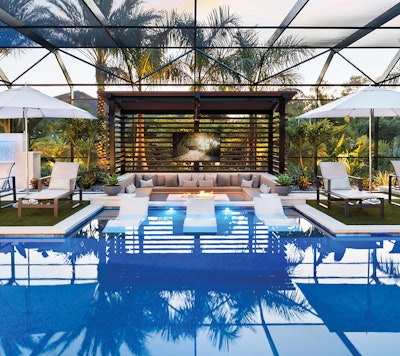 RYAN HUGHES DESIGN BUILD
Palm Harbor, Fla.
Decking Material: Silver Travertine Pavers
Pool Interior Finish: Pebble Tec
This project was inspired by a coastal aesthetic, and therefore, was named The Pearl Lounge. It presents a private and protected outdoor living space alongside lush greenery, courtesy of a neighboring nature preserve. This custom designed backyard by Ryan Hughes Design Build offers plenty of opportunities for leisure, dining and entertaining. With multiple levels of interconnected water elements, statement- making fire features and a full outdoor kitchen, the masterful use of elegant glass tile gives this "pearl" its luster.
---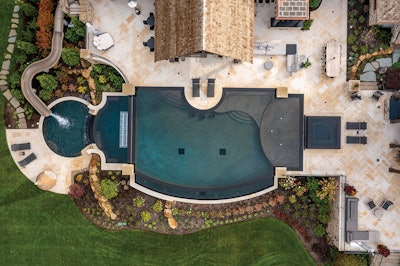 HIGH-TECH POOLS
North Olmsted, Ohio
Decking Material: Valder Stone
Pool Interior Finish: Pebble Tec
This daring swimming pool, designed by Cloonan Design Services and executed by High-Tech Pools (North Olmsted, Ohio), features five bodies of water: the main pool, the catch pool, the climbing pool, the slide pool and the spa — so it's no wonder this project took home Gold in the "Technical/Engineering Achievement" category.
Before building the pool, High-Tech Pools had to remove an existing pool and cut through feet of solid rock in order to fit the new one pictured, which features a number of unique elements. The main pool, for example, has a vanishing edge on two sides, with the other two sides deck-to-water level. The long, negative edge flows into a catch pool, and the short, negative edge flows into an invisible gutter at the top of the climbing wall, while a weir shoots water down the wall — all while keeping the two bodies of water separate.
The climbing wall pool is its own body of water that flows into the slide pool and provides water for the weir, which makes up the illusion of a short, negative edge spilling into the side pool. This enabled High- Tech Pools to handle water in transit from the upper pools' negative edge and deck-to-water level without impacting the operations of the climbing pool and slide pool. In addition, the spa is a raised, 360-degree, negative- edge spa that has its own filtration system.
---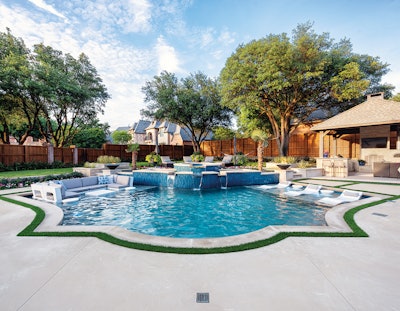 AQUATERRA OUTDOORS
Carrollton, Texas
Decking Material: Concrete
Pool Interior Finish: Plaster
The client wanted to give a fresh breath of life to a plaster pool that had fallen into disrepair, but what made this pool renovation particularly exciting for the crew at AquaTerra Outdoors (Carrollton, Texas) was the broad scope of the work. This project includes not just a custom remodel of the swimming pool and spa, but the addition of LED pool lighting, landscape lighting, and includes the addition of a lounge, landscaping, synthetic turf, fire features and more. What draws the eye is the original and appealing shape of the pool, deck design, the cascading overflow weirs and especially the well-placed sun-shelving. This is a pool where bathers will converse, relax and gaze at the Texas sky listening to the comforting sound of falling water. The image belies the scale of the vessel — it measures 43 feet long and 30 feet wide, and runs 3 feet to 5 and 1/3 feet in depth. This pool was completed in May of last year.
---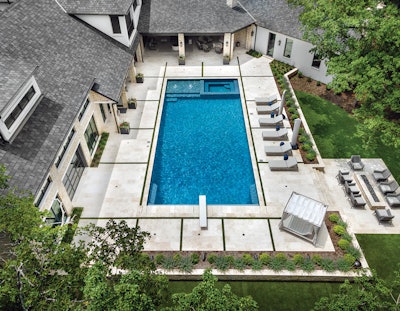 CLAFFEY POOLS
Southlake, Texas
Decking Material:
Travertine - Ivory
The pool centerline can be viewed from the home's family room of this Claffey Pools project. Mike Farley's design goal was to keep the rectangular pool simple, with walk-on lids for the automatic cover. This blended with the rectangular Travertine pavers for the patio and the porches, which were covered as well to further blend the spaces together. Turf accents created unified geometry of the space and added some landscaping, along with the pots on each column. Additional landscaping provided a buffer from the patio to the retaining wall. The retaining wall used stone to match the house and the cap matched the patio. The fire pit access stairs were centered on the game room doors and placed the fire pit safely out of the tree root zones. Synthetic turf added other activity space at the lower level. Understated gushers provide the sound to complete this tranquil tailored setting.
---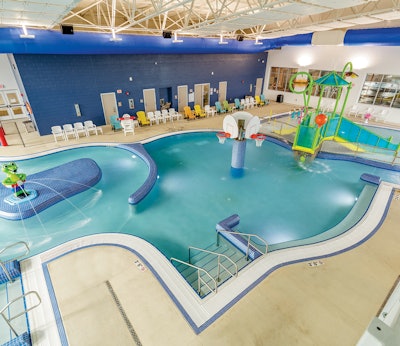 HIGH-TECH POOLS
North Olmsted, Ohio
Pool Interior Finish: Plaster
Sports and splashy activities abound in this unique commercial project by High-Tech Pools in Northeastern Ohio. From the adventurous rope bridge that rewards falling with a deep dive, to the three-sided basketball hoops that allow three times the play within a single space, to the toadstool rain curtain, the pool design incorporates separated areas within a large body of water to maximize functionality. Its broad shelves invite bathers to relax or parents to chat while supervising. This pool provides the local community a chance to play together in a lively, safe space.
---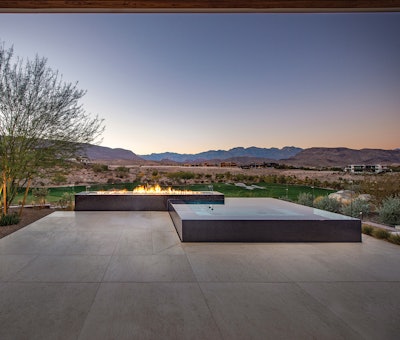 OZZIE KRAFT ENTERPRISES
Las Vegas, Nev.
Decking Material: Natural Stone
Pool Interior Finish: Wet Edge
The fundamentals of desert existence are on display in this interlocking spa and fire feature, designed by Dennis Vang of Vangson Consulting. The spa and separate wet deck fountain gleam with Starfall polished interiors and black tile, and the fire pit's linear black granite all come to life every evening reflecting the dependably gorgeous desert sunsets. The spillways on the zero- edge spa disappear into a slot edge that disappears into subterranean basins, offering the ultimate mirrored surface. (The spa has a glass fence barrier while the wet deck fountain has no barrier as it is less than 18 inch deep.)
---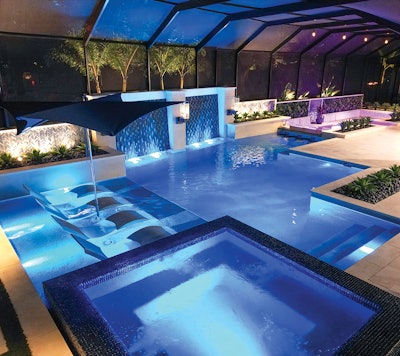 RYAN HUGHES DESIGN BUILD
Palm Harbor, Fla.
Decking Material: Marble Pavers
Pool Interior Finish: Pebble Tec
Designed for outdoor living features spanning across a large outdoor footprint, Aura Black was crafted by the Ryan Hughes Design Build team as a supreme venue for events and entertainment, all within a protective enclosure. Some elements featured within and around the custom pool are an enticing stepping stone entry, an all-glass infinity- edge spa, a swim-up bar, dual waterfall walls, a massive sunken fire lounge and an outdoor kitchen. Marble, porcelain, and faux turf are used on surfaces throughout Aura Black's outdoor space.
---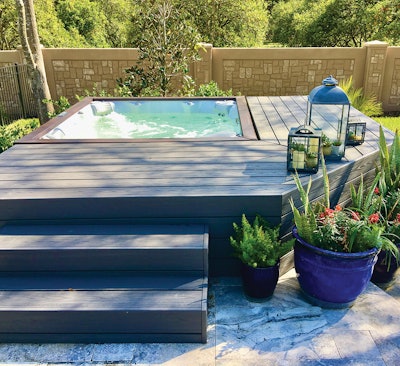 BALDREE POOLS
Marianna, Fla.
Decking Material: Composite Decking
This delightful installation shows how charming an 8-by-8 portable spa can be in the right setting. Here, composite decking on two sides offers foot-friendly access in a simple, classy design by Nicole Baldree which draws bathers into the space and directs their focus to the lush grounds beyond. A few potted plants and succulents spa-side complete the uncomplicated but inviting picture.
---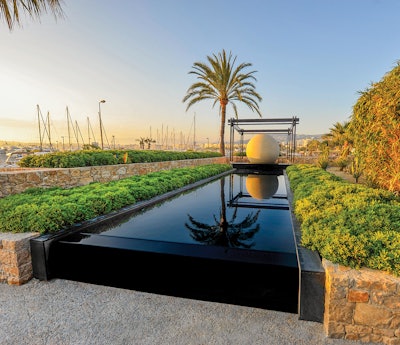 DIFFAZUR PISCINES
Saint-Laurent-Du-Var, Alpes-Maritimes
Decking Material: Stone
Pool Interior Finish: Plaster
Built for an upscale restaurant on the Côte d'Azur, this beautiful pool brings luxury and elegance to the establishment. Designed by Diffazur Piscines' artificial rock department, the perfect sphere is set in an elevated square pool, with a four-sided overflow. The black coating and black rim accentuate the spectacular reflection of the sphere and its surroundings. The pool also features all the spectacular builder's best equipment, such as an integrated automatic cleaning system, a powerful filtration system, salt treatment and a heating system to extend the swimming season.
---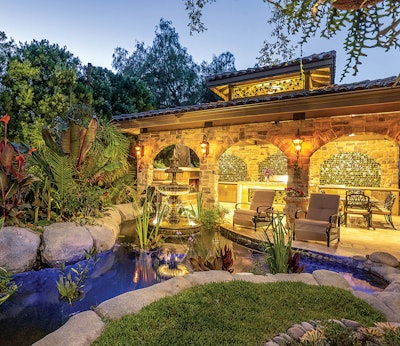 THE GREEN SCENE LANDSCAPING & SWIMMING POOLS
Los Angeles, Calif.
Both the builder, The Green Scene, as well as the designer, Scott Cohen, are immensely proud of the final result of this project because it challenged everyone on their teams to put their expertise to the test and execute a remarkable water feature and backyard. Some of the major role players in this project were landscaping, shotcrete carving, structure design, lighting, outdoor sound, filtration and retaining wall structures.
---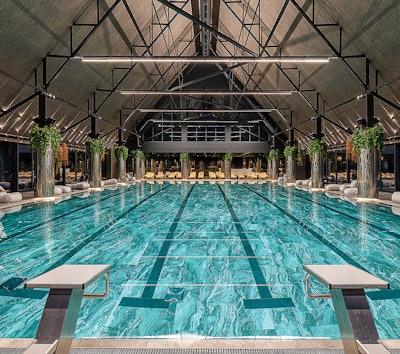 WATER WORLD WINDOW
Kyiv, Ukraine
This project was built by Water World Windows to be a large, competition pool. With incredible panoramic windows, both the internal and external views of the space are mesmerizing. The pool was named after the facility it was built in: Emily Wellness & Spa Center, which is located in the Emily Resort in Ukraine. It is equipped with two pumps, three sand filters and an underwater music system, so synchronized swimmers can partake in their competitions.